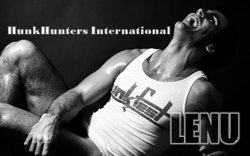 Las Vegas, NV (PRWEB) February 14, 2010
LENU, art director/photographer, clubLENU, male modeling club, HunkHunters International, male model talent scouts and Hunkfest Entertainment are launching the highly controversial E-exhibition to focus attention on a rapidly growing worldwide epidemic: Domestic Abuses Against Women. The E-exhibition "lay bare" the infamous wife beater tank top and proven facts about domestic violence!
Domestic violence is abuse committed by a spouse, a former spouse, a boyfriend/girlfriend or any cohabitant upon another individual. It is estimated that a domestic violence act occurs every 15 seconds somewhere in the United States alone. That figure translates to over 2.5 million victims per year. This abuse affects the lives of the victim and the children who live within the boundaries of these abusive relationships.
Violence against women is a critical public health problem that has devastating physical and emotional consequences for women, children and families. Women are frequent targets of both physical and sexual assault by partners and acquaintances, as well as strangers.
Domestic violence during the last 20 years has been acknowledged as being a rapidly growing health concern in America's communities and communities around the world. As a result, Hunkfest Entertainment will work together with other worldwide organizations to develop innovative strategies to "expose the naked truth about domestic abuse and stop the violence".
A staggering number of women experience some form of violence each year. Most have been attacked by a family member or a person with which they are acquainted. However, domestic violence is not exclusively a women's issue and should not be viewed as a problem only affecting women. In recent years, reports of men being abused have been on the increase. And, a series of changes in the Penal Code, have revised statutes on domestic violence by removing opposite-sex language and expanding the definition of cohabitants to include "unrelated adult persons" having "sexual relations." The changes will make it easier for gay and lesbian victims of domestic violence to seek assistance from the courts and police.
All women, children and men have the right to live their lives in a healthy and safe environment and to conduct their lives without emotional, physical or sexual abuse or the fear of abuse. The philanthropic mission of Hunkfest Entertainment is to support worldwide charitable organizations that are working to eliminate domestic violence and provide crisis intervention, services and education to all victims of domestic abuse. We must all be a part of the solution if we are to address the deadly toll this epidemic is taking. Hunk calendar photographer, LENU and The men of clubLENU have decided to do what they do best… get naked! This E-exhibition is a provocative campaign to engage men and woman as partners in the war against domestic violence. The message of the campaign is simple: STOP THE VIOLENCE- GET the NAKED truth (about domestic abuse).
###