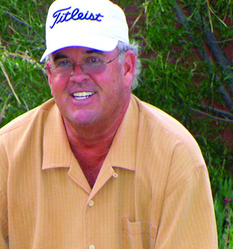 His experience in the golf industry is invaluable.
Mesquite, NV (Vocus) February 14, 2010
Gary White, a veteran of more than 30 years in the golf industry, has been named Director of Golf Operations for Black Gaming.
The 58 year-old White, a native of Zanesville, Ohio, is now in charge of Black Gaming's Palms and CasaBlanca golf clubs in Mesquite. He has served in the same position at Coral Canyon Golf Club in St. George for the past 10 years.
Prior to joining Coral Canyon, White served with Paradise Valley Country Club in Scottsdale, Ariz., before moving to Desert Highlands Golf Club also in Scottsdale where he served as Director of Instruction and Associate Pro for five years.
White has held other positions with Troon Golf Club in Scottsdale, and Suncor Golf Club in Scottsdale. He has also been the opening pro at Karsten Golf Course at Arizona State University and served as director of instruction at Sun Ridge Canyon in Phoenix.
White said he is delighted to join Black Gaming especially considering the rich availability of golf courses in the Mesquite area.
"It's unbelievable how many golf courses there are in Mesquite," said White. "This is a great getaway."
Black Gaming owner Randy Black lauded White adding that the new addition would take the company's courses to new levels.
"Gary is one of the best in the business," said Black. "His experience in the golf industry is invaluable."
White's family includes wife, Jodi, one of the better amateur players in Utah with a 4 handicap; along with children including son Adam, a banker in Scottsdale; and daughter Alyse, who just finished up her degree at Ohio State University in Columbus.
The http:palmsgolfclub.com [Palms Golf Club] is a wonderful blend of two very diverse nines. The gently rolling front side offers expansive fairways with room to roam off the tee. The second nine flows up and down through with precision far more critical than power. The par five 15th hole has a breathtaking view and a vertical drop of 114 feet. From the front side challenge of sparkling lakes and Palm tree-lined fairways to the back nine thrilled ride of elevated tees playing over deep arroyos and canyons, you'll enjoy the richness of the Palms course while being surrounded by southwest desert and mountain serenity.
The http:casablancagolfclub.com [CasaBlanca Golf Club] is a championship course designed by Cal Olson. The course winds through the region's natural desert wetlands offering wonderful views of the surrounding Virgin River Mountains. No less than 13 of the 18 holes play either over or around water hazards. The CasaBlanca Golf Club offers lush rye grass fairways, bent grass greens, white sand bunkers, and sparkling lakes accented by wild desert flowers. The scenic and serene CasaBlanca can be played while walking or with carts. Five sets of tees allow golfers a fair chance on this championship golf course, which annually hosts the Nevada Open.
Further information regarding the CasaBlanca and Palms golf courses can be found at http://www.casablancagolfclub.com or http://www.palmsgolfclub.com
Contacts: Mike Henle, 702-279-3483; Gary White, 866-401-6022.
###