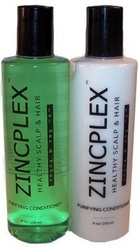 "Anytime there is a scalp problem I recommend Zincplex!" Sharon Switzer - Hair Specialist
Raleigh, NC (PRWEB) February 16, 2010
Scalp Health launches newest version of its highly successful Zinc Pca based shampoo that is targeted for both men and women that have scalp problems and issues such as itchy scalp, oily scalp, scalp acne, scalp pimples, scalp sores, seborrheic dermatitis and even thinning hair.
Recent studies show that zinc pca (an amino acid form of the popular zinc with a fatt component added) is bacteriostatic (anti bacterial), a dht blocker (the hormone that causes thinning hair and hair), and is a sebum regulator with helps with conditions such as scalp acne.
Research indicates that excess sebum on the scalp encourages scalp problems such as seborrheic dermatitis, itchy scalp and even hair thinnning. The 5 alpha reducates enzyme that converts testosterone to dht feeds off of excess oils on the scalp. Zinc pca helps to regulate the amount of oil produced by the scalp therefore reducing the amount of oil that the 5 alpha reducatse enzyme has available.
Seborrheic dermatitis is also an overly oily scalp condition that affects millions, yet most that have this condition do not find favorable long term results with current market products. Zincplex products were designed to help to balance the scalp by controlling sebum as well as using zinc pca and herbs that are known as purifying herbs, to help prevent the out of balance condition that frequently precedes these scalp conditions including dandruff, itchy scalp, seborrheic dermatitis or seborrhea and even hair thinning or loss.
Zincplex products are natural based and not use any tars, no selenium sulfide, nor any other heavy chemicals that many of the anti dandruff shampoos on the market use. It is designed to be used as often as needed. With consistent use Zincplex helps to restore proper ph to the scalp giving the scalp a long term solution to many different scalp problems.
Zincplex does not have a medicine smell but instead uses a fresh scent and is offered in 8 oz bottles or gallon jugs. There are many kits available that include the Zincplex Shampoo, Zincplex Conditioner and Zincplex Scalp Lotion.
###