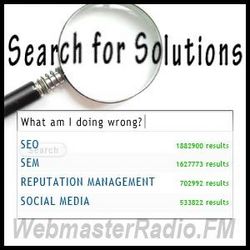 Fort Lauderdale, FL (PRWEB) February 15, 2010
WebmasterRadio.FM, the premier free, 24/7 Internet business radio network focused on the B2B marketplace celebrates the addition of "Search for Solutions" to the WebmasterRadio.FM lineup.
"Search for Solutions" plans to answer difficult questions on search marketing and the business of being a working webmaster. The show's hosts are expert internet marketing consultants who will offer advice and assistance to those looking for help in search engine marketing, reputation management social media and more.
The hosts are Greg Niland (known on the web as GoodROI) and President of GoodROI Consulting, and Frank Watson (known on the web as AussieWebmaster) CEO of Kangamurra Media.
Greg previously hosted 68 episodes of the Good Karma radio program which ran on WebmasterRadio.FM from December 2005 until December 2007. Frank is well known in the SEO, PPC and affiliate marketing communities, plus has been a staple speaker on the web marketing conference tour making frequent appearances at Search Engine Strategies and Affiliate Convention events.
"Search for Solutions" first two episodes so far have discussed the topics of solving reputation management issues and internet marketing scams.
New Episodes of "Search for Solutions" air every Monday at 7pm Eastern/4pm Pacific. Archived episodes are available on demand at http://www.WebmasterRadio.FM/Search-For-Solutions/ located inside the "Internet Marketing" channel or on iTunes.
About WebmasterRadio.FM
WebmasterRadio.FM lifts the "veiled curtain" of the Internet, bringing the business community together through an interactive radio network. Its listeners are a global group, comprised of everyone from corporate executives and decision makers to small and mid-sized businesses and individual entrepreneurs. WebmasterRadio.FM's stellar line-up of radio programming includes "CoverStory" with Jiyan Wei of PRWeb, WebmasterRadio.FM's official newswire; "The Hook with Katie Kempner" with Katie Kempner, Leader Bruce Clay and more. To tune into WebmasterRadio.FM's live content or check out the show, lineup, please visit http://www.WebmasterRadio.FM.
Media Contact:
Brandy Shapiro-Babin
954-309-5578
###