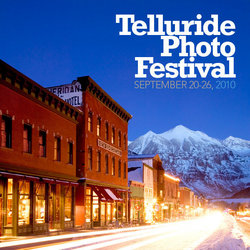 In terms is pricing, especially in light of the current economy, you will be hard pressed to find another photography festival with as great a line up for such an incredible value
Telluride, CO (PRWEB) February 15, 2010
Some of the world's most renowned outdoor and adventure photographers will share their art and their passion at Telluride's inaugural Photography Festival September 20 - 26, 2010. The weeklong event, geared toward professional and experienced amateur photographers, is timed just right for photographers to capture the changing fall light and the aspens turning gold and blaze orange.
Attendees can now purchase passes, photography workshops, and classes via a simple online shopping cart, or use a form that can be mailed in or dropped off at the Ah Haa School on 300 South Townsend Avenue; Telluride CO 81435. Telluride Photo Festival Passes
"We decided to use PayPal as a payment gateway for several different reasons" said Eric Moore, Executive Director of the festival. "One being is that PayPal is a trusted name which many photographers have used it, and they also have the security and infrastructure that we would never be able to provide independently".
Workshops range in pricing from Jack Dykinga's four-day workshop: Light on the Land at $1000 to Doug Berry's Location Lighting at $300. The workshops are varied and taught by, including the above instructors, Tom Till, Robert Glenn Ketchum, Gordon Wiltsie, Bill Ellzey, Joni Sternbach, Wendy Shattil & Bob Rozinski, Kathleen Norris Cook, and Tim Kemple. Telluride Photo Festival Photography Workshops
Eric Moore comments on the workshop lineup "We are very proud to be able to offer so many outdoor photography workshops of such a high quality in one place at one time." Moore continues "In terms of pricing, especially in light of the current economy, you will be hard pressed to find another photography festival with as great a line up for such an incredible value".
The workshops can be a considerable investment. In light of this, if a person would like to put a $250 deposit down for any one of the workshops or passes and pay the remaining balance on July 1, 2010, one can do so by downloading and completing a linked form on the website. One can mail the form or drop it off at the Ah Haa School 300 South Townsend Avenue. This will insure a spot in the workshop as well as receiving early bird pricing. Signup Form
"There is just no better place for a Photography Festival than Telluride," said event founder and organizer Moore. Tucked in a high mountain valley, Telluride is a dream playground for the adventurer and the photographer. Majestic peaks surround the town, once home to silver and gold prospectors. Weathered ruins of old mining operations dot the hillsides. Telluride is also home to a world-class ski resort. The area attracts mountain bikers, hang gliders, kayakers and climbers. Telluride is known worldwide for its summer festivals: the Telluride Bluegrass Festival, Mountain Film, Blues and Brews, Wine Festival and the Telluride Film Festival.
Also it should be mentioned that the festival is within a half day trip of four National Parks--Mesa Verde, Arches, Canyonlands, and Capitol Reef--as well as several notable National Monuments and State Parks such as Hovenweep, Dead Horse Point, and The Black Canyon of the Gunnison. For more information about Telluride please see or Telluride.net
For complete information on the Festival, to purchase Festival passes and to register for photography classes and workshops visit Telluride Photography Festival or call the Ah Haa School for the Arts at 970-728-3866. Telluride Photo Festival
###