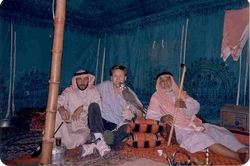 "As a journalist and observer of the human of the human condition, Notestine is highly perceptive. (GULF TIMES, DUBAI) "This book is one of the best of its kind. An insight into Saudi life that most westerners would overlook" Sandy Mitchell (Author)
Marysville, CA (PRWEB) February 18, 2010
Paramedic Patrick Tom Notestine's new book grabs you by the throat from the very first page and never lets you go. Starting with the events of 9/11 and the rise in terrorism as seen from inside the birth place of Osama Bin Laden and fifteen of the 9/11 hijackers. No Western writer has ever been this close to the House of Saud.
Drive-by shootings, drug overdoses, and multi-car accidents, as a paramedic, he thought he had seen it all. Until he entered the mysterious world of the Kingdom of Saudi Arabia. Working as a paramedic in the countries only level one trauma center, he found his skills and knowledge tested to the limited on a daily basis.
Later recruited to the medical staff of Crown Prince Abdullah, the now reigning King. He was drawn into a world of limousines and learjets, palaces and princes. His adventure had just begun. written in a relaxed and often times blunt manner, it is a gripping tale that has become a must read for any expatriate working in the Middle East. "It was never my intention to insult Islam or the Saudi people, for whom I have the deepest respect for, both as a people and their faith," stated Mr. Notestine.
"This book is highly recommended because it is vital, funny and original," states well know author Jean Sasson. Although many Saudi's may not like the way their country comes across. This warts and all account is never ever dull.
# # #