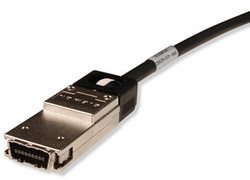 This IO connector interface has had wide standards and value-added interface link design-ins.
Watertown, CT (Vocus) February 16, 2010
Siemon, a leading global manufacturer of IT network cabling and infrastructure systems, announces the release of their 40+Gb/s SFF-8470 4X Passive Copper cabling products. These SFF-8470 copper cable assemblies support high-speed interconnect applications such as high-performance computing (HPC), enterprise networking and network storage systems. The low latency assemblies support data transfer rates from 2.5Gb/s to 10+ Gb/s per lane. For infomation, visit http://www.siemon.com/is/
Siemon's 8470 cable assemblies feature a shielded wafer construction where the signal conductors are directly attached to the connector's contacts eliminating a printed circuit board and enhancing noise resistance to maximize signal integrity. The twin-axial shielded cable conductors are laser welded reducing cross-talk and jitter to support 10+Gb/s data rates. SFF-8470 die cast back shells and latch are interoperable with all compliant interfaces.
The 8470 product supports a wide array of data protocols/interfaces, including InfiniBand SDR, DDR and QDR; Ethernet 10GBaseCX4, 40GBaseCR4. These cables also support FibreChannel, RapidIO, Myrinet, SAS, SATA, Aurora, VITA VXS and XAUI/XAUI-2 IO interface links as well as SONET/SDH.
Product options available include 24 to 30 wire gauges and various assembly lengths for specific applications.
"Siemon's SFF 8470 supports the second generation of the Shielded Multi-Lane SFF-8470 copper cabling standard with data rates through 10+Gb/s per lane for IO interface applications" said Ed Cady, Business Development Manager for Siemon Interconnect Solutions division. "This IO connector interface has had wide standards and value-added interface link design-ins."
About Siemon:
Established in 1903, Siemon (http://www.siemon.com) is a global industry leader in the development and manufacture of high quality, high-performance network cabling solutions. Siemon's Interconnect Solutions business unit (SIS) specializes in the development of high-speed interconnects. Headquartered in Watertown, Connecticut, USA, Siemon operates directly in over 30 countries and, through its channels, services customers in over 100 countries. Siemon offers a comprehensive suite of copper and optical fiber cabling systems. With over 400 active patents, Siemon Labs invests heavily in R&D and is actively involved with numerous industry standards organizations around the world.
http://www.siemon.com/is
http://www.siemon.com
Media Contact:
Brian Duval
MarCom Manager
Siemon
101 Siemon Company Drive
Watertown, CT 06795
Ph: 860-945-4380
E: brian_duval(at)siemon(dot)com
Product Information Contact:
Tom Pike
Product Manager
Siemon Interconnect Solutions
Ph: 860-945-8499
E: tom_pike(at)siemon(dot)com
See http://www.sffcommittee.org for SFF specifications and the newer SFF-8470/8473 standard.
###