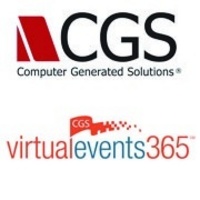 We look forward to participating in this exciting and informative event
New York, NY (Vocus) February 17, 2010
Computer Generated Solutions, Inc. (CGS) and its VirtualEvents365 business unit have agreed to sponsor and participate in the upcoming Virtual Edge Summit 2010 event (http://www.virtualedgesummit.com) in Santa Clara, California. Scheduled for February 22-23, the event will provide marketing and meeting professionals with education, training and solutions for planning and producing virtual events, meetings and communities. As a diamond sponsor, CGS VirtualEvents365SM will share its expertise as a leading provider of virtual technology and services through both direct and customer participation in two of the summit's keynote sessions.
In a day-one keynote roundtable, Intel North America Channel Sales Manager Michael Ray will share how his company is combining the best of live and virtual outreach with online community techniques to deliver success for their attendees, community members and their company through hybrid events. Mr. Ray's teams are focused on providing technical and marketing training, customer support, industry events, and sales representation for over 15,000 members of Intel's Channel Partner Program.
On day two of the summit, CGS Vice President of Virtual Solutions Tom Wieser will participate in a roundtable keynote entitled "The State (and Future) of Virtual Events". From his perspective as a longtime leader in the virtual events market, Mr. Wieser will discuss and answer questions on where the virtual events and meetings industry is in 2010, where it is heading, and what near-term offerings are coming to create even more compelling peer-to-peer communications.
"We look forward to participating in this exciting and informative event," noted Wieser. "With its strong lineup of industry leaders and experts, Virtual Edge 2010 provides a valuable forum for the rapidly expanding list of companies and executives that are looking to virtual events to extend global reach, engage time and budget challenged attendees, improve interaction with audiences, and collaborate and network in a more economic and eco-friendly virtual environment. To this end, we are pleased that Intel will be sharing their experiences with VirtualEvents365 and other technologies and services."
About CGS VirtualEvents365SM
CGS VirtualEvents365 is the global leader in virtual event solutions for corporate events, demand generation marketing events & launches, corporate e-learning, virtual job fairs, virtual conferences and virtual tradeshows. This innovative platform builds on CGS's 25 years of experience developing technology-based solutions for over 3,500 organizations worldwide. For more information please visit http://www.virtualevents365.com.
About CGS
For twenty-five years, CGS has enabled global enterprises, regional companies and government agencies to drive breakthrough performance through technology. With global delivery capabilities, expertise across leading platforms and deep experience in multiple industries, CGS has become the IT partner of choice for thousands of organizations worldwide. CGS delivers a wide array of proprietary and third-party business applications, technology and business services, outsourcing solutions and learning & communications platforms. Headquartered in New York City, CGS maintains a worldwide presence with 20 offices in North America, Europe and Asia. For more information please visit http://www.cgsinc.com
*VirtualEvents365 (SM) is a service mark of Computer Generated Solutions Inc.
###