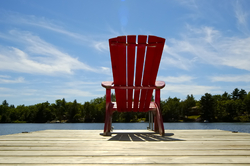 Our show offers the perfect opportunity to plan and purchase for the spring and summer season
Novi, MI (Vocus) February 16, 2010
The third annual Cottage & Lakefront Living Show will run from Thursday, Feb. 25 through Sunday, Feb. 28 at Rock Financial Showplace in Novi.
"Our show offers the perfect opportunity to plan and purchase for the spring and summer season," said Mike Wilbraham, show producer of ShowSpan, Inc. "Vacation homeowners as well as those in the market to buy, build or rent a cottage or lakefront property can find all they need to create an ideal family retreat from the exhibits on display and experts available to provide information."
Sand Pirate Janet Schrader of Fairy Godmother Services in Lakeside, MI. will share the secrets of sand as she builds a giant medieval sandcastle, teaching how to make towers, doors, windows and stairs and hosting a sandcastle contest. The Beach, a giant sandbox complete with sand and carving tools for creative building by children and adults, will allow you to join the fun and turn a pile of sand into a sand sculpture.
The Log and Timber Frame Showcase will include how a cabin is constructed, floor plans, profiles, roof options, log species, cedar siding, full logs, post and beam and do-it-yourself or contractor built home packages.
Cottage succession planning, kayak adventures and demonstrations, low maintenance cottage gardens, environmentally sensitive lake practices, bird watching, nature photography and other ways to enjoy your cottage more will be explained by the Cottage Living Stage experts.
Michigan Natural Shoreline Partnership will provide informal advice and educational materials on shoreline construction projects and natural shoreline landscaping that benefit lake ecosystems and protect Michigan's inland lakes.
Cottage Living Center will give you the opportunity to relax and work on a community puzzle, put a pin in our oversized Michigan map to show where your cottage is located or read a book selected from the 2010 Essential Cottage Reading List provided by Horizon Books of Traverse City.
Michigan artists at the Whisper in the Woods fine art show will present decorative and functional sculpture, photography, woodcarvings, watercolors and oil paintings for sale based on nature and wildlife.
Professional photographer Kimberli Bindschatel will teach Pure Michigan's Photography Classes covering photo design and composition, tricks of the trade, digital photo boot camp and new horizons of photography to improve digital photo skills (additional fee and advance registration required at http://www.NoviCottageShow.com).
DreamCatcher BoatWorks of Grand Rapids, Mich. will use handcraft building techniques on a lightweight, high performance wood-covered fiberglass custom boat.
The Water & Woods Photo Contest Display will allow you to vote for the best photo that depicts cottage and lakefront living traditions.
Exhibits include log, timber frame and cedar homes, cottage rental, designers, cottage furnishings, lakefront homebuilders and realtors, lakeshore maintenance, boats and docks, outdoor recreational equipment, non-profit environmental organizations, government agencies, financing and other products and services. Ideas to increase your outdoor living space are incorporated in the landscape displays of fireplaces, cooking options, patios, decks and gardening products.
Rock Financial Showplace is located at 46100 Grand River Ave. between Novi and Beck Road in Novi. Show hours are from 2 – 9:30 p.m. Thursday and Friday; 10 a.m. - 9 p.m. Saturday and 10 a.m. - 5 p.m. Sunday. Admission is $10; $4 for children 6-14 and children 5 and under admitted free. Discount coupons for $2 off Thursday or Friday adult admission are available at show's Web site and at participating Wendy's restaurants. Free crossover admission from the Cottage & Lakefront Living Show to Outdoorama. On site parking is available for a fee. Social networkers can follow the show on Twitter or become a fan on Facebook. For more information, visit http://www.NoviCottageShow.com or call (800) 328-6550.
MEDIA NOTE: Complete press kit and photos of products or services from the show can be e-mailed to you or are available at our Web site.
# # #