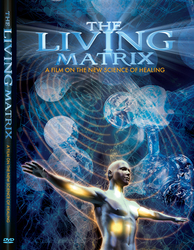 ..."our film presents a more significant insight; energy and information fields may be just as influential as genetics in determining human health, physiology and biochemistry."
Hackettstown, NJ (PRWEB) February 17, 2010
A recent Time magazine article entitled "Why Your DNA Isn't Your Destiny"* shares the latest science supporting the emerging field of Epigenetics, a new science that explores environmental influences on genetic expression. The article focuses on a revelatory concept that our DNA is not as "fixed" as scientists once believed. The groundbreaking , documentary film, THE LIVING MATRIX—THE NEW SCIENCE OF HEALING, explores this new paradigm and takes it one step further by revealing how quantum physics, energy fields, and consciousness can directly affect our health and well-being.
"This Time article confirms the emerging science featured in our film," states filmmaker Greg Becker. He adds, "However, while Time article addresses the implications of environmental factors such as diet, stress and lifestyle on our genes, our film presents a more significant insight; energy and information fields may be just as influential as genetics in determining human health, physiology and biochemistry."
THE LIVING MATRIX features distinguished experts such as Bruce Lipton, PhD, author of The Biology of Belief; Edgar Mitchell PhD, US Astronaut, Founder of Institute of Noetic Sciences; Rupert Sheldrake, PhD, author of A New Science of Life and Rollin McCraty,PhD, Director of Research, Institute of HeartMath; and Lynne McTaggart, author of The Field and The Intention Experiment, whose research challenges conventional medicine.
According to Bruce Lipton, Ph.D, "Genes are not controlling our biology, when we see cancer in a family, an adopted child, can express the cancer with the same propensity but it's because the child is introduced to perceptions, beliefs and attitudes not the actual genetics ."**
According to the Time article:
The great hope for ongoing epigenetic research is that with the flick of a biochemical switch, we could tell genes that play a role in many diseases — including cancer, schizophrenia, autism, Alzheimer's, diabetes and many others — to lie dormant. We could, at long last, have a trump card to play against Darwin. The good news: scientists are learning to manipulate epigenetic marks in the lab, which means they are developing drugs that treat illness simply by silencing bad genes and jump-starting good ones.
"Epigenetics show that environmental signals modify gene expression, and that it is not just biochemical signals that do. Fields both produced within the body and from outside have also been shown to modify gene expression. This has enormous implications for the success of therapies based on fields such as can be found in bio-energetics," commented The Living Matrix Executive Producer Harry Massey.
Bioenergetics is the study of the energy and information that informs the physical body at the sub-cellular level, including the possible quantum aspects of physiology as correlated to the body and its fields. THE LIVING MATRIX introduces revolutionary concepts in alternative healing such as bioenergetics, the placebo effect, intention experiments, thought field therapy, heart coherence, informational medicine and more.
THE LIVING MATRIX also shares compelling true stories of people who recovered from chronic illness – including a five-year-old boy born with cerebral palsy and an osteopathic doctor with a brain tumor. In the film, leading researchers and health practitioners uncover the scientific theories behind "miracle cures" and indicate how these concepts affect the future of healthcare. The film provides a comprehensive and accessible overview of the science that is proving the human mind can influence our health and that we are more powerful than we have ever imagined.
The Living Matrix—The New Science of Healing (running time 83 minutes) is now available on DVD for $19.95 for more information please visit: http://www.thelivingmatrixmovie.com
*Time Magazine, "Why Your DNA Isn't Your Destiny by John Cloud, January 6, 2010.
** Sorenson, T. I., G. G. Nielsen, P. K. Andersen, and T. W. Teasdale. 1988. Genetic and environmental influences on premature death in adult adoptees. New England Journal of Medicine 318 (12): 727-32
**Lichtenstein, Paul, N. V. Holm, P. K. Verkasalo, M. Koskenvuo, E Pukkala, A. Skytthe and K. Hemminki. 2000 Environmental and heritable factors in the causation of cancer. New England J of Medicine 343(2):78-85
###