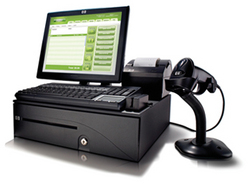 When we priced out Cashier Live versus other point of sale vendors, it made great fiscal sense. We're saving thousands with Cashier Live
Chicago, IL (PRWEB) February 16, 2010
Local First, a Michigan based consulting firm, discovered that for every $100 spent in a local shop, only $27 leaves the local community in the form of imports compared to a drain of $57 when buying from a national chain store. Local businesses often use local suppliers and employ local service providers such as accountants and lawyers, effectively re-circulating wealth within the local economy. But in the recession, many locally owned and independent stores have closed shop because of the poor economy. These store closings are having a profoundly negative impact on cities and towns all across America. Today, Cashier Live is being released to help independent retailers everywhere weather the economic storm by providing tools that help them decrease costs and increase sales.
Independent retailers often must face harsh economic realities, and one of the decisions that they have to make is how to take advantage of technology to best operate their store. While the benefits of a computerized point of sale system are clear, it's hard for a small business owner just starting out to justify an upfront expense of over five-thousand dollars. Cashier Live offers retailers in this predicament a solution by providing a low-cost point of sale that is subscription based, so costs are spread out over time. "Independent retailers face tough competition from the big box stores who all use Point of Sale systems to maximize efficiency. Now small local business can take advantage of the same technology, and get the same benefits, for a fraction of the cost" said Thomas Greenhaw, co-founder of Cashier Live.
In order to help independent retailers compete with the big box stores, Cashier live is providing them with tools to manage their staff, inventory, customers, as well as comprehensive reporting that helps increase efficiency. An electronic cash register serves its purpose, but it doesn't offer a retailer much more that having a place to store and organize the cash they have collected over the day. Cashier Live provides many additional benefits, in many cases for a lower up front cost than even a used cash register. Dennis Haight from Dean Pharmacy agrees that Cashier Live provides a great alternative to high priced systems. "When we priced out Cashier Live versus other POS vendors, it made great fiscal sense. We're saving thousands with Cashier Live" said Dennis.
Cashier Live also has other significant advantages over traditional point of sale software. One advantage is that web based delivery allows for instant implementation. In the traditional model, software goes from the developer to a reseller, who then has to coordinate setup, installation and training. Cashier Live allows retailers to sign up on their website, and within minutes they can be managing inventory and conducting transactions. Another advantage to using Cashier Live is the constant stream of new features, and their web-based delivery system sends these updates automatically to every register. According to Dennis Haight, "One thing we really like about Cashier Live is that we can provide feedback and they actually put it into action. With other providers who aren't web-based it can be very difficult to get support like this. I feel like Cashier Live wants my feedback and input, while some other larger POS companies don't."
Cashier Live is now open to the public after a long period of testing and improvements. If you'd like to sign up for a 30-day free trial, visit the Cashier Live website now.
About Cashier Live
Cashier Live has been focused on providing a low cost alternative to traditional Point of Sale software since 2009. By taking advantage of web technology, Cashier Live can provide point of sale software direct to retailers at a fraction of a cost of traditional software. A key benefit of using a Point-of-Sale is that it can help you run your store more efficiently. From conducting transactions to managing your inventory, Cashier Live gives you the tools to decrease costs and increase sales. When you know what products you have, how many are in stock, and which ones are selling then you can reduce loss and make informed decisions on what products you should be ordering. Cashier Live provides all these key benefits and more. Cashier Live was founded by a father and son team, Tom and Thomas Greenhaw.
# # #