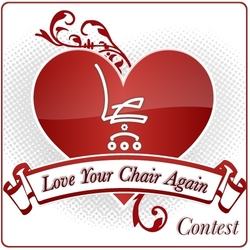 We have seen a great response to our Facebook chair contest
Milwaukee, Wisc. (PRWEB) February 17, 2010
National Business Furniture (NBF) is celebrating its 35-year anniversary in 2010 by giving back to its customers. NBF, which first started selling office furniture through a catalog in 1975, is sending out special anniversary-edition catalogs, promoting monthly specials on its website NBF.com and offering customers and fans fun ways to win products through its Facebook page.
To kick off the year-long celebration, NBF launched a contest on Facebook called "Love Your Chair Again" which runs through the end of February. The contest lets fans submit photos of their old, ugly or broken chair which NBF then posts on its Facebook page.
Fans can then vote for their favorite entries on NBF's Facebook page by "liking" the photos. The top three entries will win one of three prizes: an NBF Signature Series mesh chair ($495 value), a $300 NBF shopping credit or a $150 NBF shopping credit.
"We have seen a great response to our Facebook chair contest," says Dean Stier, marketing director for National Business Furniture. "It's very exciting to get our fans involved with our brand in a fun and interactive way. I can't think of a better way to acknowledge 35 years of business than to celebrate the very people that made it happen - our loyal customers."
The chair contest has been a way for NBF to connect with customers in a completely new way. Fans that submit their photos often write a brief explanation about why they deserve a new chair. By inviting their friends, family and colleagues to vote on NBF's Facebook page, each contestant has the ability to drive more votes to their own entries.
In addition to contests on Facebook, NBF will run new specials each month on NBF.com. The promotions typically feature reduced pricing on popular items and collections. Special anniversary-edition catalogs are being sent out that feature new products from NBF Signature Series(NBF's exclusive private label brand of furniture) as well as hundreds of items that ship today.
About National Business Furniture
National Business Furniture was founded in 1975 as an office furniture catalog for corporate offices, small businesses and government agencies. Since then, NBF has expanded into the school, church and home office markets through three catalog brands, six websites and an experienced sales team.
In 2006, NBF was acquired by K+K America, LLC, the leading group of business-to-business direct marketing companies in North America.
For a free catalog or to browse the complete selection of office furniture such as desks, chairs, file cabinets, bookcases and reception furniture, go to NBF.com. For additional office, school and church furniture, visit any of the NBF family of brands including: OfficeFurniture.com, OfficeChairs.com, Alfax Furniture and Dallas Midwest.
Contact:
Dean Stier
National Business Furniture
414-615-3667
###