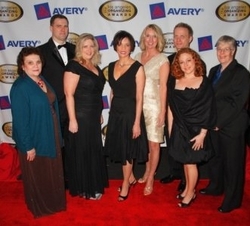 NAPO, a national association dedicated to serving the field of organizing through education, is honored to receive the Most Valuable Educational Resource Award from its peers in the organizing industry
Mount Laurel, N.J. (PRWEB) February 17, 2010
It's official: The Annual Conference of the National Association of Professional Organizers (NAPO) is the industry's "Most Valuable Educational Resource," according to organizing industry professionals worldwide who voted in the fifth annual Los Angeles Organizing Awards. Scheduled just one night before the Grammys, the Los Angeles Organizing Awards, or "Orgies," were presented on Saturday, January 30th at The Raleigh Studios in Hollywood, CA. Over 200 celebrity organizers, industry professionals and members of the public assembled at the gala, hosted by actress and comedienne Kim Coles. The Los Angeles chapter of the National Association of Professional Organizers (NAPO-LA) produced the event along with Presenting Sponsor, Avery Dennison.
The Los Angeles Organizing Awards were introduced in 2006 by NAPO-LA to honor professional organizers, organizing retailers, organizing products, services & resources, charities, technology providers, authors and the media for their contributions to the organizing industry. Twenty-three awards were chosen by the public and NAPO members. Every year the event concludes NAPO-LA's celebration of "National Get Organized Month."
"NAPO, a national association dedicated to serving the field of organizing through education, is honored to receive the Most Valuable Educational Resource Award from its peers in the organizing industry," stated NAPO President, Laura Leist, CPO®, when accepting the award on behalf of the organization. "NAPO offers a wealth of education that you will not find anywhere else. Whether attending conference or taking a NAPO teleclass, you have the opportunity to learn from subject matter experts in the industry who are passionate about educating their peers," said Leist. "NAPO's education and conference programming committee volunteers are the individuals that have helped take our education to a new level. This honor is a tribute to the many personal hours they have invested." Video clips from the LA Organizing Awards are available, including Ms. Leist's red carpet interview: http://www.youtube.com/watch?v=5SAwDGgNKHM and acceptance speech: http://www.youtube.com/watch?v=tPgY5xNjbLE.
NAPO will be hosting its 22nd Annual Conference at the Hyatt Regency Columbus in Columbus Ohio from April 21 – 24, 2010 where it will celebrate the start of its 25th year as an association. The theme of this year's conference is INNOVATE, CONNECT, INSPIRE. Headlining this year's NAPO Conference are Keynote Speakers Tim Sanders, former Chief Solutions Officer for Yahoo!, Gina Schreck, The Geek Chick and host of the web show Getting Geeky!, and Monica Wofford, acclaimed speaker, author and trainer. NAPO's comprehensive conference program offers opportunities for personal and professional growth through tracks for beginning, intermediate, and experienced professional organizers. The Conference Expo will showcase the latest products and services available to keep people, homes and businesses organized.
For more information about NAPO and its award winning 2010 Annual Conference to be held in Columbus, Ohio, visit http://www.napo.net/conference/.
About NAPO
Founded in 1985, NAPO is a national association dedicated to the field of organizing. NAPO is dedicated to serving its members through education, networking, industry resources and promotion of the organizing profession to the public. For more information about NAPO, please visit http://www.napo.net.
Please see the attached Photo. NAPO Board Members attend the "Orgies" (left to right): Angela Wallace, P. Allan Young, Laura Leist, Standolyn Robertson, Elizabeth Hagen, Chris McKenry, Jill Revitsky, and Sandy Stelter
###