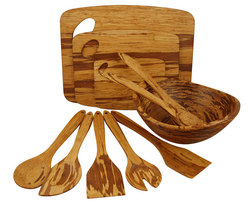 Bamboo is highly sustainable because it grows fast and is easily replenished; it's also ideal for kitchenware because it is durable and lightweight," said Ken Kreafle, CEO
Atlanta, GA (PRWEB) February 16, 2010
As a third-time exhibitor at the 2010 International Home + Housewares Show in Chicago on March 14-16, Base Brands™ (http://www.basebrands.com), will be showing new additions to its Reduce™ eco-friendly product line (http://www.reduceeveryday.com), including Wild Bamboo™, a 100% bamboo line of kitchen products, and Reduce™ Hybrid™, a beverage container that keeps liquids hot or cold all day long. Both products promote the use of environmentally friendly materials and the reduction of waste.
With no two pieces alike, Wild Bamboo™ is made out of 100% crushed bamboo that is formed and pressed in its natural state, producing a natural, organic design. Serving bowls, plates, platters and utensils make up the line. Wild Bamboo will be available for sale in April, 2010.
Reduce™ Hybrid™ is an insulated container, featuring two unique lids for hot or cold beverages. The product's Fire + Ice™ insulation system keeps beverages hot or cold throughout the typical work day, making it possible to use one container all day long.
"Both of these new products fit right in with our eco-friendly Reduce product line. Bamboo is highly sustainable because it grows fast and is easily replenished; it's also ideal for kitchenware because it is durable and lightweight," said Ken Kreafle, CEO of Base Brands. "The Reduce Hybrid also helps people reduce their impact on the environment by cutting down on disposable coffee cups and water bottles. It takes you through your day—from your morning coffee, to your afternoon water," continued Kreafle.
The company will also be displaying its popular Reduce™ WaterWeek™ BPA-free bottle system; the recently launched Reduce™ Compactor Can; Melaboo™ bio-degradable bamboo kitchenware and other innovative kitchen products at the Housewares Show, located at booth S-3549.
About Base Brands
Founded in Atlanta in 2005, Base Brands (http://www.basebrands.com) is a fast growing company that invents creative, practical products to make life easier for a variety of consumer lifestyles. Including innovative and eco-friendly homeware, kitchenware, food storage containers and pet gear, the company's inventions continuously challenge category standards with solutions that fill distinct unmet consumer needs. A prime example is the popular Reduce™ WaterWeek™ line of attractive refillable water bottles that sits in a handy shelf tray designed to promote grab-and-go consumption and eliminate the need for wasteful disposable water bottles. Other brands include TANK™, a line of rugged, insulated mugs and containers, and Pet Trek™, a line of convenience gear for active pets and their owners.
About the International Home + Housewares Show
The 2010 International Home + Housewares Show will feature 2,000 exhibitors from over 35 countries showcasing home goods, gourmet specialty foods and housewares products for every room in the home, inside and out. For more information, visit http://www.housewares.org.
###