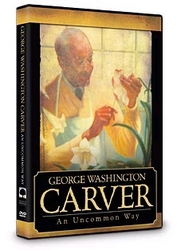 Carver's greatest overlooked contribution in my opinion was his love and appreciation for creation and creativity. He was a true scientist who was more than a lab coat and a microscope
Franklin, TN (Vocus) February 16, 2010
In a time when heroes are in short supply, Franklin Springs Family Media of Franklin, TN, has produced a timely film about an influential and enigmatic African-American leader. While U.S. historians often limit their focus to his scientific genius George Washington Carver: An Uncommon Way mines deeper into the spiritual core of Carver, chronicling the inspiring story of a faith tested and refined by hardship and the harsh realities of being born into slavery and growing up in the reconstruction era. The film was released nationally on February 1—the first day of Black History Month.
"Carver's greatest overlooked contribution in my opinion was his love and appreciation for creation and creativity. He was a true scientist who was more than a lab coat and a microscope," said Dr. Voddie Baucham Jr., the well-known author, conference speaker and preaching pastor at Grace Family Baptist Church in Spring, TX. Baucham lends his voice as narrator in this powerful tribute to the whole of Carver's life.
An Uncommon Way is co-produced and directed by Christian film mainstay Ken Carpenter (Dove Award winner in 2007 and 2008 for Best Long-form Videos for Mark Schultz and Amy Grant). "We're always on the lookout for stories that cast a strong vision of faith in action. I had heard only half of Carver's story in school; we wanted this film to provide a more complete picture of this extraordinary life," said Carpenter.
"This was a man of many gifts and passions who lived a full, rewarding life and invested that life by mentoring and discipling others," added Baucham.
George Washington Carver: An Uncommon Way is available for purchase at Mardel Christian Bookstores, online at Christian Bookstore Distributors (CBD) and on the Franklin Springs website, where a 2-minute film clip featuring Dr. Baucham can also be viewed at http://www.franklinsprings.com/films/carver/.
Carpenter's cinematic documentary style provides an engaging film featuring footage from Carver's boyhood home in Missouri, Tuskegee Institute in Alabama, and other story segments from Nashville to Los Angeles, as well as interviews with a surviving former student and noted historians, including John Perry, Peter Buchard, Paxton Williamson and Dr. George Grant. The film was scored by renowned Nashville composer/arranger Tom Howard.
An Uncommon Way celebrates the character qualities that made Carver a unique part of American history. "Textbooks tend to concentrate primarily on the outward achievements of George Washington Carver, his inventions and vision for sustainable agriculture, but this was just a small part of the man—more the outward fruit of something far greater within!" says Grant in the film.
Carver's commitment as a mentor to his students was unwavering. He wrote "Oh, how I want them to get the fullest measure of happiness and success out of life. I want them to see the Great Creator in the smallest and apparently the most insignificant things about them. How I long for each one to walk and talk with the Great Creator through the things He has created."
George Washington Carver: An Uncommon Way is the latest from Franklin Springs Family Media. Helmed by Carpenter, who recently produced a television series with Joni Eareckson Tada and the latest John Tesh broadcast special. Franklin Springs provides families with filmed entertainment that strengthens the fabric of family life.
Watch the trailer of George Washington Carver's: An Uncommon Way and learn more about the film and Franklin Springs Family Media by visiting the official website at: http://www.franklinsprings.com.
To cover the film George Washington Carver's: An Uncommon Way" through an interview with narrator Dr. Voddie Baucham Jr and/or director Ken Carpenter should contact Gregg Wooding of I AM PR Services by email at gregg(at)iampronline(dot)com or by phone at (972) 567-7660.
###