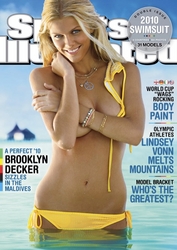 Guy Harvey is all about sustainability, conservation, educating the public, about saving our oceans and the marine life so that future generations will be able to appreciate and use the marine resource as we have
Irvine, CA (PRWEB) February 17, 2010
Guy Harvey's famous marine wildlife artwork is now seen being worn not only by fishermen, but by men and women, college students, teens and even young kids. And most recently Guy Harvey's artwork is showing up as fine jewelry on beautiful swimsuit models like Brooklyn Decker and Anne V in the recently released 2010 Sports Illustrated Swimsuit Issue.
"It was like walking up to the plate in the world series and hitting the ball out of the park at first bat," said Jim Fortescue, owner of Nautora, the official licensee and manufacturer of Guy Harvey Jewelry. "I couldn't possibly envision a better promotional opportunity than on the pages of Sports Illustrated Swimsuit Issue for our nautical jewelry line."
Just a few years ago, the primary place you might see Guy Harvey's artwork outside of a picture frame, was on fishing t shirts worn by salt water fishermen. But that has changed as evidenced not only by the Sports Illustrated swimsuit models, but by the millions of dollars in Guy Harvey clothing being sold through retailers across the U.S. and online to a wide variety of people of all ages.
"Guy Harvey clothing, jewelry, and other licensed products are really striking a chord with a broad cross section of people across the country," said Bill Shedd, owner of AFTCO Bluewater, the licensee for Guy Harvey apparel and operator of the newly launched official online store GuyHarveySportswear.com. "We have watched long lines of people of all ages wrapping around the block, waiting for an autograph at Guy Harvey's signing events...Moms with 10 year old sons, Dads with 17 year old daughters, and college students both male and female," Shedd continued.
"I think Guy Harvey's growing popularity is more than just about beautiful fish art as fashion, said Mahmood Shivji, Director of the Guy Harvey Research Institute at Nova Southeastern University. "Guy Harvey is all about conservation, about sustainability, about educating the public, and about saving our oceans and the marine life so that future generations will be able to appreciate and use the marine resource as we have. No one is more passionate and involved with the ocean than Guy Harvey. He doesn't just talk about it, he does something about it. A portion of every Guy Harvey jewelry, clothing and other licensed product sale goes to fund important marine research, and I believe informed consumers that love our oceans really relate to Guy's commitment."
Guy Harvey's Facebook page has over 109,000 actively engaged fans, many of them college students and younger, supporting the claim of a widening audience. Both Guy Harvey Jewelry and Guy Harvey Sportswear are actively seeking additional product placement opportunities.
About Guy Harvey Jewelry
Guy Harvey's artwork is now featured in a line of fine jewelry. Nautora has transferred Guy Harvey's ocean themed artwork into three dimensional works of personal designer jewelry. The new jewelry line features an assortment of Marlins, Sailfish, Porpoises, Sharks, Hummingbirds, Sea Turtles, King Mackerel, Tarpon, Dorado, Macaw and Tropical Fish. The line features delicate pieces for the ladies, and robust, heavier pieces for the guys. Nautora has used a variety of combinations of sterling silver, 18k gold, platinum, diamonds and gemstones to create an impressive selection. All pieces in the line have Guy's signature exquisitely featured on the reverse side. Guy Harvey's Signature Jewelry is available at many fine retail stores. Prices range from $59.95 to $30,000. To locate a retailer go to http://www.guyharveyjewelry.com/locator/
About Guy Harvey Sportswear
Guy Harvey Sportswear represents a full line (over 7,000 styles and sizes) of high quality Guy Harvey Men's fishing t shirts featuring his extraordinary detailed paintings of big game fish like marlin, sailfish, tuna and more, in addition to other men's fishing clothing like tech and performance shirts, fishing shorts, fishing hats, belts, shoes, and sandals. There is also a wide selection of Women's clothing including dresses, skirts, shorts, knits, tanks, and tops, in addition to popular new Junior's and Young Men's t shirt lines featuring more youthful designs and a slimmer cut. The Youth department includes fishing shirts, t shirts, and hats. Guy Harvey Sportswear is available at many retail locations as well as online at http://www.guyharveysportswear.com. (A retailer locator is available on the site.)
Contact for Guy Harvey Sportswear:
Laura Hernandez
laura(at)aftco(dot)com
949-660-8757
Contact for Guy Harvey Sportswear Product Placement:
Bill Shedd
bill(at)aftco(dot)com
949-660-8757
Contact for Guy Harvey Jewelry and for Product Placement:
Margaret Fortescue
margaret(at)guyharveyjewelry(dot)com
252-946-5333 x122
###