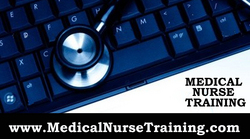 Stafford, VA (PRWEB) February 16, 2010
MedicalNurseTraining.com announces an exciting new way to bundle Health Care Brands as an educational opportunity for each company's healthcare customers. This proven accredited education program will be customized with the company's message and products. Nationally recognized speakers will help punctuate each company's value proposition in bed safety, fall prevention, and patient safety. This is a unique, cost effective method to widen each selected company's audience in the acute and long term care markets. This program will also allow customers/facilities unlimited online training for all nurses and staff on critical topics to CMS and Joint Commission
Medical Nurse Training Inc. is the premier portal for training nurses on fall prevention, fall protection, senior fall products, patient safety, and bed safety. Medical Nurse Training, Inc. has consistently worked with the top people in these fields to provide top quality, accredited educational materials needed by health care professionals. Valuable new technologies for the reduction of risk are frequently discussed. Some of these technologies are bed alarms, side rail protectors, fall mats, hip protectors, low beds, and fall identifiers. Clinical testimonials and sample programs are available at the Medical Nurse Training, Inc. website.
Medical Nurse Training Inc. is eager to work with healthcare companies to develop these branded programs to ensure proper education on such a wide scale concern. Select Healthcare Companies will be able to inexpensively provide three credit hours of valuable on-line training for nurses in each company's specific market segment. This proven educational program will set these selected companies apart from any of their competitor's total solution. The marketing team at Medical Nurse Training, Inc. has test marketed this program extensively and look forward to sharing the programs' success with other selected company's products and corporate mission. Companies may even consider adding their featured fall prevention, senior falls products, home care and patient safety products to our consumer site at http://www.SaferFalls.com
Medical Nurse Training, Inc. asks that companies take time to review the basic program details at http://www.MedicalNurseTraining.com for a brief overview of the basic program components. Healthcare Companies are urged to contact Medical Nurse Training, Inc. for more information. Clinical references are also made available by Medical Nurse Training, Inc. and are located on the company's website.
###