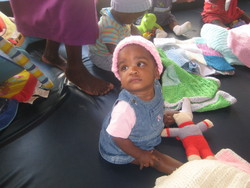 Listening to the stories about the children was heartbreaking, but seeing them get proper medical care, food, and a few possessions they could call their own was incredible
Thousand Oaks, Calif. (Vocus) February 16, 2010
When local business owner and entrepreneur Debbie Charton first asked customers and friends to knit blankets and clothing for African orphans, she never thought the community would produce over 200 hand-made goods, allowing her to distribute the sweaters, hats and blankets at four facilities across Kenya. As the owner of Pearl's Knitting Parlor, Charton is well-connected in the Ventura county needlework community, so when fellow members of the Christian Church of Thousand Oaks began discussing a mission to help orphanages for HIV-infected babies in Kenya, she challenged the local community to participate.
"We started by dedicating time in weekly knitting classes for 'Kenya blankets,' and everyone was thrilled to contribute time and skill," Charton says. "Then word got out about what we were doing, and by the time I left for the mission I had well over 200 blankets, sweaters and hats - all hand-made by local residents."
On January 16th, Charton and 11 others from her Church flew to Kenya with suitcases stuffed with knitting. Over the course of a two week journey, they visited baby rescue homes in Nairobi and Nyeri, a CMF clinic in the Ewaso Ng'iro area of the Maasai region of Kenya, and were part of CMF's activities in Turkana (NW Kenyan nomadic tribe). The baby rescue facilities are all run by New Life Home Trust, and are essentially halfway houses for infants ranging from newborns to two year olds – the majority of whom are either infected with HIV or were orphaned by HIV-positive parents or abandoned because of poverty issues or drug addictions. The children are given medical care and a stable home with the hope of being adopted by the local Kenyan community; those who are not adopted are carefully placed in local Christian orphanages.
"Listening to the stories about the children was heartbreaking, but seeing them get proper medical care, food, and a few possessions they could call their own was incredible," Charton says. "It's a wonderful feeling knowing that when the chips are down, people in our community are willing to help those who need it most."
If you would like to sponsor a child or the work done in Kenya or for more information about the missions in Kenya, contact Debbie Charton at Pearl's Knitting Parlor, 2993 E. Thousand Oaks Blvd., Thousand Oaks, Calif. 91362 or call 805/497-2893.
# # #