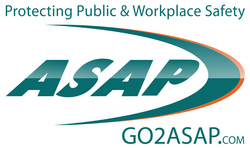 Baltimore, MD (Vocus) February 16, 2010
American Substance Abuse Professionals, (ASAP), the nation's leading provider of Drug Free Workplace services, announces a new online training course for professionals in the substance abuse field* seeking to qualify for the role of Substance Abuse Expert (SAE) as defined by Nuclear Regulatory Commission (NRC) regulations. The NRC regulations, 10 CFR Part 26, include recently amended rules governing the operation of Fitness For Duty (FFD) programs that are required for all NRC licensees and other covered entities. The revised rules define the SAE role and describe its scope and duties; the SAE must complete a qualification training course by March 31, 2010.
DOT Substance Abuse Professional (SAP) qualification is not sufficient to qualify for the SAE role.
At the core of the new ASAP SAE Qualification Training are 26 learning objectives that cover all facets of the SAE role and its place within the FFD program. Reviewed by the Nuclear Energy Institute (NEI), the ASAP SAE training curriculum addresses the NRC training requirements of Section 7.11.d, NEI 03-04, Guidelines for Plant Access Training, System Administrator Bulletin 2009-17 Revision to SAE Training Objectives and 10 CFR 26.187(c)(2) and (3) and (d). In addition, the course has been approved for 20 Continuing Education Units (CEUs) by both the Employee Assistance Professionals Association (EAPA) and the National Association of Social Workers (NASW).
The training is available on the ASAP website.

According to 10 CFR Part 26.187, the following professional categories are eligible, when qualification trained, to perform in the SAE role: licensed physician; licensed or certified social worker; licensed or certified psychologist; licensed or certified employee assistance professional; an alcohol or drug abuse counselor certified by the National Association of Alcoholism and Drug Abuse Counselors (NAADAC) Certification Commission or by the International Certification Reciprocity Consortium/Alcohol and Other Drug Abuse.
###