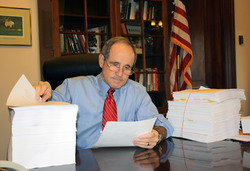 One voice can make a difference
Richardson, TX (PRWEB) February 17, 2010
David Berry, Director of Congressional Communications for National Write Your Congressman, presented the NWYC Constituent Award to Senator James E. Risch of Idaho for his commitment to the importance of constituent communications.
For over 50 years, National Write Your Congressman has been encouraging responsible Americans to communicate directly with their elected officials. "One voice can make a difference," said Dave Berry. "One letter, one email, one phone call, one fax can be a clarion call for action. Now more than ever, American citizens need to share their innovative ideas and common sense with the people they elected to office. Congress needs to hear from the folks back home on the issues that matter most."
"When Idaho residents let me know their views regarding a national issue," said Senator Risch, "it helps me to better represent their interests. This past summer, in the midst of heated town hall discussions and national debate over health care legislation, thousands of Idahoans called, e-mailed and sent letters expressing their opinion on the matter. The people of Idaho spoke, and I was able to make sure their voices were heard."
"That is what good constituent communications is all about," said Chris Adamson, President of National Write Your Congressman. "That is why concerned citizens need to write…that is why they need to speak up. One voice can make a huge difference. Having good dialogue between our elected officials and the people who elected them is what our Founding Fathers intended when they wrote our Constitution and started it with…We the people…"
"A citizen contacting their representatives in Congress about their principles and beliefs is an integral part of our democratic institution," said Senator Risch. "I encourage all to take an active role in this process by contacting their elected officials."
About NWYC: National Write Your Congressman is neither a lobby nor a special interest group. They are non-partisan. For over 50 years they've had one mission and that is to encourage Responsible Americans to quickly and effectively influence their elected officials. For more information, go to http://www.nwyc.com.
###