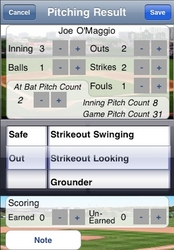 Mike Egan, President, Lakeside Little League: "Not everybody can make it to every game, and seeme baseball helps keep everybody up to date."
Roseville, CA (PRWEB) February 17, 2010
Competition Technology, software developer of technology for sports and competitive activities,has released seeme active™ baseball for iPhone® and iPod touch®. seeme active baseball enables anybody to easily capture, comment upon, and automatically share player stats, scores, and highlights while watching from the bleachers or dugout. The app can be downloaded from the iTunes® App Store for only $1.99, and access to users' accounts on http://www.seemeactive.com is free.
Instant results from the game to the Web - seeme active baseball makes it simple to permanently save and automatically share baseball and softball stats through its easy-to-use interface. Capture batting, pitching, fielding, and base running stats with just a couple finger taps. Once saved on the iPhone, the stats are automatically accessible in the competitor's account at seemeactive.com. Friends and family can receive notifications of stats as they're added and review results as they happen from any device with web access; this is great for people who can't be there in person.
"This is an interesting addition to the baseball and softball experiences for our players and their friends and families," said Mike Egan, President of Lakeside Little League in Northern California. "Not everybody can make it to every game, and seeme baseball helps keep everybody up to date. And the ability to review stats as the season progresses and from year to year is going to be popular with our players."
A Lifetime of Stats– "When we show the seeme active apps and web site to athletes, a couple things always come up," said John Tafoya, founder and general manager of Competition Technology. "First, the younger athletes and their parents love being able to share their stats and results with their friends and family who can't make it to their events; and second, the older athletes love being able to review their stats and performance over time. This is especially true with baseball and softball which are stats-centric sports, and seeme baseball makes it easy to review a player's baseball and softball history."
Permission-based Sharing – Competitors can permit a friend to enter results on their behalf while they're competing, and allow others to freely add comments or just view the results. The sharing functionality also enables users to have stats automatically posted to social networking sites like Twitter and Facebook to let friends and family get the results as they happen.
More Apps on the Way – Competition Technology released seeme active football for iPhone in September 2009, seeme active fight-sports for iPhone in November 2009 (mixed marital arts (MMA), Brazilian Jiu-Jitsu (BJJ), kickboxing, wrestling, and boxing), and seeme active running in January 2010, and more features and iPhone apps are on the way.
About Competition Technology
Competition Technology was founded with the goal of dramatically enhancing peoples' sporting and competition experiences through the practical use of technology, and seeme active™ is Competition Technology's flagship consumer-oriented offering. Competition Technology also develops technology solutions for businesses, such as the technology that powered the 2009 IKF Kickboxing World Championship tournament and the upcoming 2009 ISCF Amateur Mixed Martial Arts World Championship tournament. For more information about Competition Technology and seeme active please visit http://www.seemeactive.com/.
###