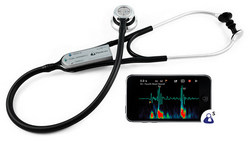 We are giving physicians, nurses and students a tool that takes the stethoscope to a new level of clinical utility.
Denver, CO (PRWEB) February 16, 2010
Thinklabs is pleased to announce Stethoscope App for Apple iPhone and iPod Touch, a medical application that works with Thinklabs' patented, performance leading, ds32a Digital Stethoscope.
Stethoscope App provides real time visual display of patient heart and lung sounds. Physicians, nurses, students, EMT's and others now have a complete mobile auscultation tool for capturing, displaying, editing, saving and emailing stethoscope sounds such as heart sounds, bruits, lung sounds and bowel sounds. All this can be done right on the iPhone or iPod Touch – at the bedside, in the office, or at a remote location.
Stethoscope App is useful for:

Medical educators teaching physical examination skills,
Physicians and nurses on hospital rounds, to provide visual display of auscultation findings,
Physicians in private practice wishing to add stethoscope sounds and waveforms to their electronic medical records (EMR),
Telemedicine or remote users, to send sound and image files directly from their iPhone or Touch to multiple recipients.
When capturing heart sounds, the phonocardiogram waveform is displayed along with the spectrogram, which highlights the pitch and frequency characteristics of the sound. Recordings can be edited, saved and emailed on the iPhone / Touch. Emails are automatically formatted with attached .wav files and waveform images. Thinklabs' free Phonocardiography software can then be used on Mac or PC for further signal processing, display or listening.
Special features are also provided for educators, residents and medical students, with a library of heart sounds built into the App as Reference Sounds. Clive Smith, CEO of Thinklabs elaborated on this feature, "Going forward, we will expand on the educational content by providing new sounds along with educational materials. This is just the beginning, as we provide upgrades of content and features in the future to our user community."
Smith described his company's approach to the App, "We have a large stethoscope user base that communicates closely with us about their needs and wants. I have personally spoken to over 25,000 physicians and nurses over the last few years. That's quite a focus group! Based on their feedback, I believe that we are giving them a tool that takes the stethoscope to a new level of utility."
Leading software designer, Tom Andersen, who has vast experience utilizing Apple's graphics and user interface capability to create sophisticated scientific software usable by all audiences, developed the software.
Clive Smith explains further, "Tom has developed an App that displays complex data with great clarity, and provides rich features with extraordinary simplicity. A doctor can Record, Display, Edit, and Email a heart sound in about 30 seconds. That's an incredible feat for software design, and a reflection of how well Stethoscope App uses the fantastic iPhone user interface. There is a real challenge today to create superior clinical tools while simplifying the workflow. Stethoscope App is amazingly simple to use, despite its powerful feature set."
Thinklabs is the first company to provide an electronic stethoscope with recording and display of heart and lung sounds on the Apple iPhone and iPod Touch. Thinklabs ds32a Digital Stethoscope uses a patented acoustic sensor, which set a new standard for stethoscope audio performance. This has earned the ds32a accolades in both the clinical world and in broadcasting, where it is used for capturing heart sounds, from medical talk shows to the Superbowl. Stethoscope App continues Thinklabs record of being first to market with medical innovations for auscultation and mobile electronic health.
About Thinklabs
Thinklabs specializes in the development of electronic stethoscopes and mobile medical technologies. Thinklabs conducts active research in stethoscope technology and design, and mobile applications for medical devices. The company holds numerous patents in body sound sensing and electronic stethoscope technology. The Thinklabs ds32a is one of the leading electronic stethoscopes on the market today. Visit Thinklabs online at http://thinklabsmedical.com
Trademarks
Thinklabs is a registered trademark of Thinklabs Medical LLC. Apple, iPhone and Touch are registered trademarks of Apple Inc. ( NASDAQ:AAPL )
###