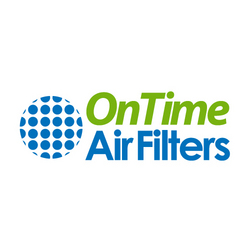 On Time Air Filters is a simple, seamless solution to an important problem: regular replacement of home air filters. OTAF's service costs the same or less than purchasing replacement filters at a local hardware store.
Bethesda, MD (PRWEB) February 17, 2010
Helping home owners remember to replace their home air filters – a task that is critically important and often overlooked – a new national home air filter delivery service launched today to help home owners ensure cleaner home air, reduce home energy bills, and lengthen the life of their expensive air conditioning and heating systems.
On Time Air Filters (ontimeairfilters.com) recognizes that most home owners neglect to replace their air filters as often as they should – every three months according to most manufacturer recommendations. Busy people forget, and even when they remember, it is inconvenient to visit the hardware store for this purchase, armed with an often-lost scrap of paper with scribbled air filter sizes. Too often, shoppers are frustrated by seeing very limited inventory in "custom filter sizes", and are met with blank stares when they ask about different filter types and qualities.
On Time Air Filters solves a frustrating, time-consuming problem, providing a critical convenience and peace of mind to homeowners and small landlords who want to make life easier for their tenants. By visiting http://www.ontimeairfilters.com, site users click through an easy "Air Filter Wizard" – easily entering the sizes of the air filter or filters in their home, naming each filter for easy installation when the shipment arrives, choosing a quality level for each filter -- either high-efficiency MERV 8 filters ("better") or MERV 11 filters ("best") -- and deciding how often they want replacements delivered.
On Time Air Filters does the rest, delivering high-quality home air filters on a customer's chosen schedule. And On Time Air Filters offers 65 home air filter sizes as "standard", three times the options offered by mass hardware retailers, all delivered at standard pricing and usually shipped in 48 hours.
"On Time Air Filters is a simple, seamless solution to an important problem, offered at almost the same price as consumers would pay by purchasing their replacement filters at their local hardware stores" said Mark Leffers, president of On Time Air Filters. "We already have plans to respond to customer requests to add comparable products, including filters for home air purifiers and installed water filtration systems."
About On Time Air Filters
On Time Air Filters (http://www.OnTimeAirFilters.com, @ontimeairfilter) offers routine home delivery of MERV 8 and MERV 11 air filters on schedule. Helping homeowners and small landlords ensure clean air, reduce heating and air conditioning bills, and protect their investment in their HVAC systems, On Time Air Filters offers a way for home owners to remember something they tend to forget. On Time Air Filters keeps homes, families, and HVAC systems healthy, while giving busy families one less thing to worry about during their precious free time.
###