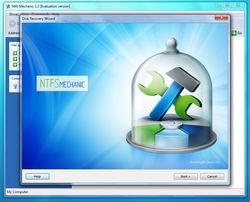 Partition recovery software for small offices and home users to repair damaged NTFS disks and recover files and folders.
(PRWEB) February 22, 2010
Recovery Mechanic announces the release of NTFS Mechanic, a tool of partition recovery for small offices and home users to repair damaged NTFS disks and recover files and folders. NTFS Mechanic employs Do-It-Yourself ideology, and makes complete recovery of lost data and corrupted disks and partitions not only possible but easy to general computer users.
About NTFS Mechanic
NTFS Mechanic automates the recovery of files, folders, and entire NTFS disks and partitions from all sorts of problems. Damaged, corrupted, formatted and inaccessible disks are just a few cases to mention. The new NTFS recovery tool allows repairing most types of damage done to disks bearing the NTFS file system, and recovering lost and deleted files and folders from healthy and damaged NTFS disks. Concentrating exclusively on NTFS formatted media, NTFS Mechanic is more affordable than the company's ultimate recovery tool, HDD Mechanic, yet offers broader possibilities than its lower-end product, Recovery Mechanic.
NTFS Mechanic makes it simple to locate and recover deleted files and folders. Scanning the entire surface of the disk being recovered, NTFS Mechanic detects exact locations of more than 150 types of files regardless of the health or accessibility of the disk. Even if the disk is corrupted, reformatted, or covered with bad blocks, NTFS Mechanic can still recover most user data such as office documents, compressed archives, email, digital pictures, video and audio collections.
The fully guided user interface facilitates a step-by-step recovery wizard. The wizard helps users with absolutely no knowledge of system internals to recover data and repair the damage in a few easy clicks. The available live preview displays the contents of each recoverable file, allowing the user to pick the newest version of a document or recover only those files that aren't damaged or corrupted. The preview works without writing anything onto the disk being recovered, and is available in the evaluation version of the product as well as the full one.
NTFS Mechanic works in all versions of Windows from Windows 95 to Vista and 2008 Server. The tool can recover NTFS disks and partitions in any version of Windows, even if it does not support NTFS. NTFS Mechanic supports all revisions of NTFS, including NTFS4, NTFS5, and Hidden NTFS.
About Recovery Mechanic
Recovery Mechanic offers a variety of disk and data recovery products to Windows users around the globe. Combining sophisticated recovery technologies with fully guided, step-by-step user interfaces, Recovery Mechanic excels in selling top notch data recovery products to ordinary computer users.
###