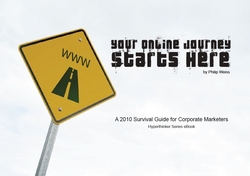 The e-marketing e-book maps out 10 easy steps to begin an online journey, find the right ways to embrace this new communication environment and lead the drive within your company.
(PRWEB) February 18, 2010
2010 promises to be a year of change for communicators everywhere. After a devastating recession in 2009, this year has been a time of painful reflection for the role, structure and meaning of communication in the corporate world. With this in mind, Phil Weiss, founder of ZN, an e-marketing agency, based in Brussels, has recently published a free e-marketing ebook: Your Online Journey Starts Here.
Download the e-Marketing ebook from the Hyperthinker website.
"The real challenge for communicators today is to take a personal step towards getting a better understanding of what this environment means for communication and how marketing professionals and corporate communicators can take the lead of the transformation in their own company". In today's climate, it's either do or die – communicators should lead the change or risk being swept into oblivion and fall victim to the next wave of restructuring.
Part of the Hyperthinker series, the e-marketing ebook is a practical guide to getting started with online communication. The key steps include getting a personal experience of the tools, having the right, open mindset, setting up an internal 'underground' team, and playing the political game right. It also highlights the importance of defining clear business objectives and key performance indicators to measure and track progress. Weiss also used his 10 years experience working with clients such as Toyota to apply kaizen (constant improvement) to the world of the internet.
"Your Online Journey Starts Here addresses questions we are all facing with good solid common sense answers…with global perspective" and "ties together all of the Internet concepts with a 21st century call to action... the book is fun, but has a lot of terrific take-aways." (Lon Safko, author of The Social Media Bible)
###