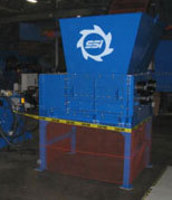 This shredder installation was born out of the establishment of a working relationship...
Wilsonville, OR (PRWEB) February 16, 2010
A Model Q85 Hydraulic Drive quad-shaft shredder from SSI Shredding Systems Inc., Wilsonville, Ore., has been installed in Indonesia, adding to the roster of nations in the company's installation portfolio. This latest international shredder installation was born out of the establishment of a working relationship with PT Ecostar Engineering (ecostargrp.com).
Ecostar is a full service international environmental engineering company with extensive experience in a wide range of project applications. Chuck Barber, of PT Dirjo Mulia International in Jakarta, partnered with SSI and worked closely with Ecostar to identify the equipment needs for the project. SSI worked specifically with Ecostar's division of Waste Management, Minimization, and Recycling to develop a waste to energy solution in Jakarta, Indonesia. This includes the collection and size reduction of alternative fuels materials such as plastics, wood, rags, and oil contaminated materials. System start-up is slated for April 2010.
Since 1980, SSI has been designing and manufacturing size reduction systems to prepare solid wastes for thermal treatment or conversion to alternative fuel. SSI has supplied hundreds of systems worldwide for generating energy from many different waste materials—from industrial, municipal, and hazardous wastes to tires, mill waste, wood and biomass.
The growing diversity of conversion technologies and feed systems means there is no "one size fits all" system for shredding. With multiple low-speed, high-torque technologies to offer, SSI is able to address each customer's unique application with systems known for high-performance, low-maintenance, and on-line reliability. From coarse shredding to spec product sizes, SSI offers the broadest line of low-speed, high-torque shredders available for:

Biomass fuel processors
Construction and demolition (C&D) recycling facilities
Cement kilns
Hazardous waste fuel blenders
Incineration plants
Industrial and special waste processors
Industrial boiler users
Material recovery facilities
For more information about SSI's product line of Quad Hydraulic Shredders, visit SSI online at ssiworld.com or contact an SSI Sales Representative directly at (503) 682-3633.
###