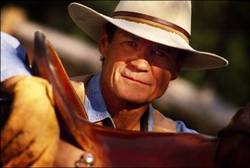 Sorrel River Ranch Resort is located in one of the most magnificent areas of the world, and is absolutely a first class facility. Our clinic will focus on teaching horsemen and women the art of using Gentle Solutions to accomplish all their goals
Moab, UT (PRWEB) February 17, 2010
Going beyond the typical "dude ranch vacation" experience, this four-day intensive adult workshop teaches basic to advanced principles of equine communication, aimed at helping pleasure riders to experienced horsemen and horsewomen alike gain a greater understanding of horse behavior, increase confidence and enjoy horseback riding safely.
Led by the nationally recognized horse whisperer, Frank Bell, riders from every equine discipline will benefit from his acclaimed 7-step safety program to enhance their current horsemanship skills. The clinic offers a series of sessions and exercises designed to help students learn techniques to manage a range of common issues in horse handling - from spooking to aggression, saddling and mounting, grooming and barn habits to trailer loading difficulties, by working with many horses of varying dispositions.
When: Arrive: Sunday May 2, 2010 Depart: Thursday May 6, 2010
Where: Sorrel River Ranch Hotel & Spa Resort, Mile17, Highway 128, Moab, UT
Cost: $2225.00 for a 4 day clinic based on double occupancy. $775 add-on single occupancy. Three meals daily and a riding horse for each student is included. Horse boarding is available at an additional $50 per day; riders bringing their own horses must also provide a negative Coggins test and current health certificate.
**Rider space is limited, early reservations are recommended, and spectator slots are available at $100 per day with advance notice.
With the southwestern landscape rich in wrangling history, Moab Utah serves as the perfect location for this unique adult horseback riding camp experience. "Sorrel River Ranch Resort is located in one of the most magnificent areas of the world, and is absolutely a first class facility. Our clinic will focus on teaching horsemen and women the art of using Gentle Solutions to accomplish all their goals. I have pioneered an exceedingly humane set of exercises that turns safety into a delightful dance; that dance will then carry the partnership to amazing places," says Frank Bell of the southern Utah location and what the attendees can expect to learn by attending the workshop.
In addition to the organized exercises, desert trail rides allow riders to practice their new skills, or take part in side activities available on the resort property, providing riders with a sense of camaraderie after the intensive sessions. Close the day with gourmet meals at the River Grill Restaurant, Moab's only fine dining restaurant, and then enjoy a restful night of sleep in the ranch's luxury hotel rooms. Spa services and massage treatments are available to soothe sore riding muscles for an additional fee.
Offering the finest guest ranch facilities and the only luxury hotel in Moab, Utah, Sorrel River Ranch Resort & Spa is located on the scenic byway Highway 128, on the banks of the Colorado River, surrounded by red rock cliffs and desert mesas.
To reserve your spot, call Sorrel River Ranch Hotel & Spa Resort at 877-359-2715
Visit the Sorrel River Ranch website to learn more about the best Moab Utah hotel accommodations.
For additional information about Horse Whisperer Frank Bell and his horsemanship clinics, visit:
###