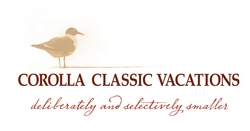 Corolla, NC (PRWEB) February 19, 2010
The Home Away *television commercial that aired during Super Bowl XLIV caught everyone's attention. There are awesome benefits to choosing a vacation rental over traditional lodging. Renting a vacation home includes an abundance of amenities that make a beach vacation convenient and relaxing.
1) Move In and Spread Out – Vacation homes can accommodate a small or large group without everyone feeling cramped. Large groups can stay together in one big house and feel cozy while maintaining your personal space.
2) Bring That Gourmet Cook – There is usually someone in the group who loves to cook. Others prefer to take turns preparing meals and making it a social event. You can save money and have a great time cooking your favorite meals. Then, when it's time to go out, try one of the local restaurants and enjoy the dining experience.
3) Beach Time = Play Time - Life at the beach is great fun especially when your place comes with extra perks. Some homes have private swimming pools, hot tubs, theatre rooms, game rooms with pool tables, fireplaces, DVD players, Internet access, etc. Oftentimes, pets are allowed so ask in advance because pets deserve a vacation too!
4) Travel Light – These days most vacation homes come equipped with washers and dryers, so you don't have to bring as many clothes. Bedding and towels are often provided, inquire when you make your reservations. Some owners even leave beach chairs, sand toys, or other extras to make your stay even more fun.
5) Getting Here and There – Getting around beach communities like Corolla, NC is easy, just ask the property management staff of locals for recommendations. Vacation rental companies can help you choose the best mode of transportation in their region: auto, bicycle, kayak or jet ski. For instance, you may want to take a 4-wheel drive jeep tour to see the wild horses in the Outer Banks.
*View the Vacation Rental TV Commercial: http://www.youtube.com/watch?v=Cey36NRK0vQ
Learn more about beaches in the Outer Banks of North Carolina
# # #