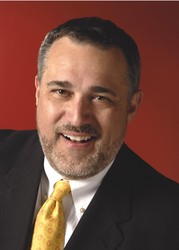 Jeffrey Hayzlett will reveal how Kodak is successfully transforming itself into an innovative leader in digital imaging.
Menlo Park, CA (PRWEB) February 18, 2010
Jeffrey Hayzlett, the Chief Marketing Officer of Kodak, will be the special guest at a live, interactive webinar on Wednesday, February 24, 2010 at 1 PM EST/10 AM PST hosted by Zuberance, the leading Word of Mouth company that delivers sales now. For more information please visit our blog.
Mr. Hayzlett will reveal how Kodak is successfully transforming itself into an innovative leader in digital imaging. He will share his perspectives on what it takes to succeed in the digital age, with a particular focus on how companies can utilize marketing – particularly social media – to build closer relationships with customers, build their brand and create innovative products, and deliver tangible return from their marketing investment.
Attendees will hear how Kodak is utilizing social media and other tools to transform itself; how to multiply the impact of marketing programs by utilizing other people's money, and how to structure and focus marketing organizations to generate maximum impact.
Rob Fuggetta, Zuberance Founder and CEO, will host this free webinar where he will discuss the evolution of social media with Jeffrey Hayzlett. You will learn directly from Jeffrey and Rob, how you can apply proven strategies to grow your company's social media programs and how to drive sales and measure ROI.
Registration Information
Register now. Attendance to this virtual event is limited.
*About Jeffrey Hayzlett*
Jeffrey Hayzlett serves as the Chief Marketing Officer and Vice President, Eastman Kodak Company, As CMO, Mr. Hayzlett is responsible for the company's worldwide marketing operations including the design and implementation of all marketing strategies, investments, policies, and processes. He leads the company's efforts for Strategy and Planning, Marketing Programs, Marketing Operations, Brand Development, Business Development, and Corporate Sponsorships. He is also responsible for the company's Corporate Communications, PR and Public Affairs organizations.
Mr. Hayzlett speaks frequently around the world on business growth, communications, and marketing, including keynotes at events such as The Economist Marketing Summit, THE Conference on Marketing, the 140 Character Twitter Conference, CMO Summits, Mobile Marketing Forum, Digital Life Design Conference, Photo Marketing Association Conference, Direct Marketing Leadership Forum, and National Postal Forum. He is cited as a leading marketing expert in numerous books, magazines, and newspapers, and is a frequent television guest, having appeared on shows including CNBC's The Big Idea with Donny Deutsch, Fox Business News, and NBC's Celebrity Apprentice with Donald Trump.
*About Zuberance*
Zuberance is an award-winning Word of Mouth company and a leader in the social media age. Zuberance's ground-breaking Word of Mouth marketing technology and expertise makes it easy for companies to identify their Advocates; mobilize them to boost qualified leads, traffic, and sales; and track results in real-time. Zuberance customers include major brands plus growing companies across multiple industries and verticals. Headquartered in San Carlos, CA, Zuberance is backed by Emergence Capital Partners, the leading venture capital firm focused on early and growth-stage Technology-Enabled Services companies. Zuberance is a member of the Word of Mouth Marketing Association.
###