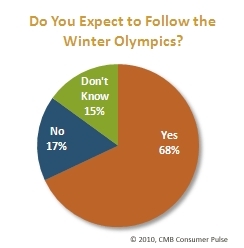 It's not surprising that these consumer brands would top the list among the American general population, especially since these companies have a long history of sponsoring the Olympic Games
Boston, MA (Vocus) February 17, 2010
Chadwick Martin Bailey, a custom market research firm in Boston, recently conducted a Consumer Pulse study to measure interest in the Olympic Games and consumer perceptions of companies who are official sponsors. The results show that at the start of the games, a majority of American adults expect to follow the action, and of the 68 percent who were planning to watch, nearly all (90%) will watch the games on television. This high level of interest is great news for the companies who are investing big money (upwards of $100 million) to be "official sponsors" of the games.
The results show that sponsor companies are getting a rather decent bang for their buck among the American general population. Among the official sponsors, Coca-Cola was correctly identified by 60% of likely followers, and VISA also broke into the majority of awareness (51%).
Other non-sponsor companies, however, appear to be getting a nice "halo effect" in terms of assumed sponsorship without spending a dime.
"It's not surprising that these consumer brands would top the list among the American general population, especially since these companies have a long history of sponsoring the Olympic Games," comments Jeff McKenna, Senior Consultant at Chadwick Martin Bailey. "We selected a random list of companies as competitors to each of the official sponsors, and although we found the official sponsors had higher awareness of sponsorship over the non-sponsoring competitors, we did find a few brands garnering rather high assumed sponsorship: Subway (16%), American Express (14%), and Pepsi (10%) all had at least one-in-ten of adults assume they are sponsors." continues McKenna.
The study also shows while 90% plan to watch the Olympics on television, a sizable portion plan to watch some portion online, whether it be highlights (29%), or live games (12%). In addition 45% plan to read stories online as compared to 38% in the newspaper.
About the Study
Data was collected from 1,019 adults (aged 18 and over) via a nationally representative online survey questionnaire within the United States by Chadwick Martin Bailey between February 13, 2010 and February 14, 2010. Quotas are set to ensure reliable and accurate representation of the total U.S. population over ages 18 and older.
About Chadwick Martin Bailey
Chadwick Martin Bailey is a Honomichl Top 50 ranked custom market research and consulting firm working with many of the most successful companies and best known brands in the world to help them acquire, maintain, and grow their customer base. Founded in 1984 by John Martin and Anne Bailey Berman, the company has corporate headquarters in Boston, Massachusetts, serving clients in more than 30 countries around the globe. Chadwick Martin Bailey focuses on using leading-edge research techniques to collect and translate the data into simple, business decision-focused deliverables. (http://www.cmbinfo.com)
###