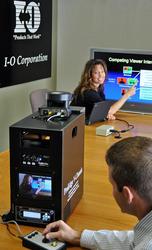 Salt Lake City (Vocus) February 17, 2010
The 'On-Demand' generations in high school, college, and now entering the workforce not only have the tools and tenacity for on-demand technology, but they have come to expect it. Organizations must meet these requirements without busting budgets. I-O Corporation of Salt Lake City, UT has developed an event capture system that is now available and is easy to maintain, setup, and operate.
The ProEdge V-Chassis™ Event Capture System is a portable, fully integrated appliance for video-recording and live-webcasting corporate events and training, school lectures, legal depositions, hotel meetings, church services, and funerals. It was designed to be the least expensive and easiest to use technology among competing concepts now on the market.
V-Chassis packages and prewires all essential video capture components in a compact, easy-to-transport box including:

Pan/tilt/zoom video camera
Wireless camera remote control
Microphone
ProEdge video encoder and streaming device
Audio mixer and headset
Video distribution amplifier
Two video monitors
Telescoping handle and wheels.
Other options that complement the system include a teleprompter module as well as podium that includes video monitor, back-timer and audio interface to capture laptop audio at the same high quality as their voice audio.
Competing appliances like Mediasite and Echo360 do not include configured and pre-wired audio/video components. It's like buying a car without an engine, leaving that choice and installation up to the customer. Competing software-only solutions are even less plug & play ready, requiring customers to also supply the computers and encoders.
The ProEdge Encoder supports both Windows Media Video (.wmv) and Flash Video Files (.flv). It also supports live streaming via Windows Media Server or Flash Media Server.
Given V-Chassis' unique, fully packaged design there is no direct competition. No other product incorporates both AV and IT components in one unit. No competing appliance is as inexpensive. All commercial appliance competitors are proprietary. No competing appliance is as mobile and easy to set up. No competitor offers a teleprompter option. No competitor offers a lectern monitor option.
V-Chassis was designed from the outset to be as "open source" as a commercial appliance can be because of its "open box" design. Customers can avoid costly, on-going service contracts by servicing and upgrading components on their own
V-Chassis delivers either live or "on-demand" video for replay to remote viewers' computers and handheld devices like iPhones and Blackberries. Events can be watched using Microsoft Windows' Media Player, Adobe's Flash Player or customers can customize their own graphical user interface for playback. Lectures captured by the V-Chassis can be viewed in real time by high school and college students if they are ill or out of town. Or students who attend face-to-face can replay the lectures at their dorm rooms or homes the same day they attended class.
The base V-Chassis system retails for $7,000, a third of the price for the market leader.
###