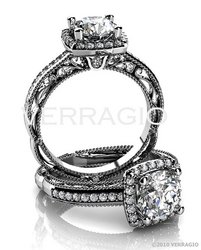 Distinctive styling combined with our unique approach to accentuate side profiles.
New York, NY (PRWEB) February 17, 2010
Without an official name assigned to the new collection of engagement rings and wedding bands, Verragio provided a sneak-peek of the new designs to a select group of fine jewelry establishments at the invitation-only Centurion Jewelry Show in Tucson, Arizona earlier this month. "The distinctive styling combined with our unique approach to accentuate the side profiles of the rings have been particularly appreciated by the jewelry retailers at the show," says Barry Verragio.
When it came to naming the new collection, Verragio reached out to its large fan base on Facebook. After a week of voting, Verragio fans decided on "EVERMORE" as the name of the new collection, pulling in over a 75% preference in votes.
With Barry Verragio's latest Evermore Collection, Verragio will offer engagement ring and wedding band designs that go beyond the typical engagement ring, to provide a unique styling to those who appreciate the superb craftsmanship and inspired artistry in the details. The Evermore Collection of engagement rings will join Verragio's other distinct collections such as Couture, Insignia, Classico and Paradiso. Verragio is officially launching the new Evermore Collection in the spring.
About Verragio:
Verragio specializes in engagement rings and wedding bands of the highest quality and beauty. Verragio is the creator of the Lumino Setting, a revolutionary setting technique that reveals all sides of a diamond, opening up every facet to light. Available in platinum, gold and palladium, Verragio offers designer engagement rings, diamond wedding rings, men's wedding bands and diamond eternity bands that can be seen only in carefully selected, authorized jewelry retail establishments located in the United States and Canada.
###