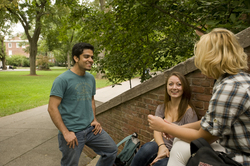 "I really enjoy classes that have very condensed material more than classes that take place throughout an entire semester. I feel as though I get more out of the summer experience..."(Briana Varga, Rutgers Summer Session student)
New Brunswick, NJ (PRWEB) February 17, 2010
NEW BRUNSWICK, N.J. – Though students and visitors to Rutgers wouldn't be shocked to find an occasional snowman on campus, they probably will be surprised to learn registration for the 2010 Summer Session in New Brunswick, Newark and Camden begins Monday, Feb. 22.
More than 2,500 courses, research opportunities and field placements are available statewide, with more than 1,500 in New Brunswick, according to Elizabeth Hough, director of New Brunswick's Summer Session, who added, "We're pleased to announce that even in this difficult economic climate, we have limited financial aid available to summer students."
Rutgers' Division of Continuing Studies will offer $500 scholarships to Rutgers New Brunswick undergraduates with GPAs of 3.5 or higher and unmet financial need. "E-mails have been mailed to eligible students," Hough said. She noted that her office also will offer scholarships to cover 20 percent of tuition for up to two summer courses (six credits) to advanced younger students who will not have graduated from high school by June.
Hough said two notable additions to New Brunswick Summer Session will debut: certificate programs in translating and interpreting Arabic and Chinese, and also in gifted and talented education for K-12 educators, counselors and administrators. The university also has expanded its Summer Advanced Placement Institute, week-long intensive workshops for AP teachers in 13 content areas, in partnership with the College Board.
The university also will offer hybrid courses, which combine the convenience of Web-based learning with the benefits of classroom interaction.
To introduce students to New Brunswick's Summer Session, Hough's office will host open houses on March 10, 16 and 24, and on April 1 and 6. With the exception of the March 10 program at the Rutgers Student Center, 126 College Ave., all sessions will be held at the Continuing Studies Conference Center (formerly the University Inn and Conference Center), 178 Ryders Lane, from 5:30 to 7 p.m. Refreshments will be served.
For more information on Rutgers' Summer Session, e-mail summer@dceo.rutgers.edu, call 732-932-7565 or visit http://summer.rutgers.edu/press.
###