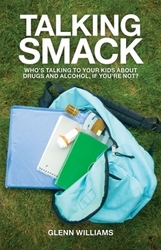 Drug and alcohol abuse do not discriminate. They impact children in every nation, every environment, every walk of life.
Colorado Springs, CO (PRWEB) February 18, 2010
Are you talking smack? You'd better be.
Focus on the Family COO Glenn Williams, a psychologist and substance abuse expert who has worked with parents and teens for more than 20 years and created the How to Drug Proof Your Kids program (http://www.drugproofyourkids.com), says parents need to be intentional about talking to their kids about the dangers of drug and alcohol abuse.
In his new book, Talking Smack(Authentic Publishing/Biblica, $13.99, paper, ISBN: 9781934068861), Williams urges parents to begin drug-proofing their kids at an early age.
Although many parents believe their family, community, or church is immune from drug abuse, recent statistics prove otherwise:

More than a third of 12- to 17-year-olds (8.7 million) can obtain prescription drugs to get high within a day. Nearly one in five teens (4.7 million) can get them within an hour.
65 percent of 12- to 17-year-olds who drink get drunk at least once a month. This increases by a further 20 percent for 17-year-olds.
Teens who get drunk monthly are 18 times more likely to have tried marijuana, four times more likely to know a peer who abuses prescription drugs, and more than twice as likely to know someone their age who uses meth, ecstasy, cocaine, heroin, or LSD.
Between 2007 and 2009, there was a 37 percent increase in the percentage of teens who indicated that marijuana was easier to buy than cigarettes, beer, or prescription drugs.
Talking Smack outlines risk factors, signs of drug use, and reasons why drugs and alcohol are attractive to teens. Williams gives practical strategies to help parents equip their children to avoid substance abuse. Each chapter ends with a summary and action items, and the book concludes with a list of resources.
"I can't state it any more plainly than this: If you're a parent, you need to read this book," said Focus on the Family President/CEO Jim Daly. "Drug and alcohol abuse do not discriminate. They impact children in every nation and every environment and every walk of life."
Glenn Williams will be available for interviews Feb. 28 and Mar. 1 at the 2010 National Religious Broadcasters convention. To arrange an interview, contact Biblica Marketing Director Mike Dworak, Mike(dot)Dworak(at)Biblica(dot)com, 719-867-2768.
About Authentic Publishing
Authentic Publishing produces scripturally rooted and culturally relevant resources that engage the global community in issues of life, ministry, and evangelism. Authentic Publishing is a division of Biblica. For more information, visit http://www.BiblicaDirect.com.
About Biblica
Biblica's vision is to transform lives through God's Word by translating, producing, and distributing Bibles, Scripture materials, and other Christian resources through ministry, distribution, and retail channels so people around the world may become disciples of Jesus Christ. Biblica operates in 45 countries and is the sponsor and copyright holder of the New International Version© family of contemporary-English Bible translations. For more information, visit http://www.Biblica.com.
###