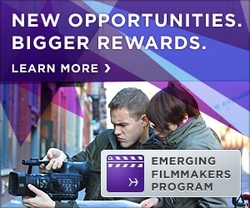 "Our Howcast videos are our 'fun' work. We look forward to shooting them each week because of their creative requirements. It's an opportunity to actually do some filmmaking!"
New York, NY (PRWEB) February 17, 2010
Today, instructional online media company Howcast announced that it is expanding its Emerging Filmmakers Program (EFP), offering filmmakers a tiered program that will allow them to get more involved with more challenging -- and rewarding -- video-making. Since launching in 2008, EFP has been helping up-and-coming filmmakers gain experience and exposure. By shooting, editing, and getting feedback on their Howcast spots, EFP filmmakers refine their filmmaking skills with every upload.
The tiered program will allow filmmakers to move up to new levels based on the creativity and quality of their videos. Howcast's producers will grade each video based on technical execution, style, production design, concept, and clarity, personal feedback that helps filmmakers increase their skills -- and their compensation. Filmmakers who consistently impress can also take on special topics, shooting some of the most challenging scripts and working more closely with Howcast producers to develop treatments, determine casting, and select locations.
"It's always been hard as a filmmaker to establish yourself in the industry, and it seems like the competition and market get tougher every year," said Heather Menicucci, managing producer of Howcast Emerging Filmmakers Program. "The program gives new filmmakers a chance to make video and earn money in their spare time. It's a real-world chance to be creative and build a reel they'll be proud to share."
The EFP allows filmmakers to focus on their core skills and encourages them to devise creative concepts and use innovative shooting and editing techniques to teach viewers something new. Howcast's emerging filmmakers bring the vision and their skills, armed with a fully researched script, professional voice-overs, and embedded graphics--a process which has resulted in thousands of high-quality Howcast videos.
From beautifully executed recipes and awesome animations to unique concepts, Howcast's filmmakers continue to produce high-quality videos that empower users with the know-how to do almost anything -- and it's not just Howcast who is noticing. Emerging filmmakers' skills are frequently featured on Howcast's distribution network partner sites. In fact, one of Howcast's EFP videos, How To Kiss With Passion, filmed by Michael Sanchez, has had the most views of any video on Howcast's YouTube channel with more than 14 million to date.
Talking about being part of EFP, S&S Productions' husband-and-wife team Kaytie Sproul and Omar Saad, who have contributed nearly 50 videos for Howcast, said, "Our Howcast videos are our 'fun' work. We look forward to shooting them each week because of their creative requirements. It's an opportunity to actually do some filmmaking!"
About Howcast Media
Howcast empowers people with engaging, useful how-to information wherever, whenever they need to know how. From How to Paint a Wall and How to Build a Snow Cave to How to Smart Mob, Howcast streams tens of millions of videos every month across its multi-platform distribution network. With over one million downloads on the iPhone, Howcast is the #1 instructional content mobile application in the world, and recently launched its Google Android application to critical acclaim. Howcast also offers an array of powerful, targeted, easy to implement video solutions for content providers, site publishers, and marketers. Launched in 2008, Howcast is led by a senior management team with strong backgrounds in traditional and new media as well as technology, with offices in San Francisco and New York. To learn more, visit Howcast.com and keep up with us on Twitter, Facebook, and our blog.
###