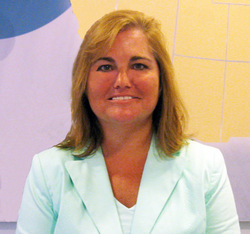 "Expanded appetite, new carriers and new opportunities! I am excited about CCBsure in 2010"
Cambridge, MD (PRWEB) February 18, 2010
RPS ISG International recently announced the appointment of Estelle Cummings as the company's Area V.P. of Sales for the CCBsure®, technology program. Cummings oversees new business production in ISG's technology program.
"I am very excited about this appointment and the growth of our CCBsure® program," notes Cummings. "With the new opportunities and expanded appetite of both our existing and new carrier partners, we are able to look at and quote more coverages in both the technology as well as the professional business sector."
A native of Maryland, Cummings has been employed in the insurance industry in various positions for most of her life. She currently resides on the Eastern Shore of Maryland in Salisbury with her husband and two children. She will be participating in the "Women in Business Leadership" conference sponsored by Chubb Insurance in Arizona in February.
About RPS ISG International and the CCBsure Program
RPS ISG International is a wholesale brokerage offering a full range of services to independent agents throughout the U.S. Their CCBsure insurance program for Information Technology companies is one of the nation's leading business insurance solutions for small to mid-sized hi-tech companies. Sold in all 50 states, the CCBsure program also insures IT staffing companies and a variety of professional services firms through a network of both admitted and non-admitted carriers.
RPS ISG International has been honored as the "Business of the Year" by the Maryland State Chamber of Commerce and recognized by National Underwriter Magazine as one of the "Top five sales agencies in the U.S".
For more information about the CCBsure program for technology insurance, visit their website at http://www.CCBsure.com or call toll-free 800.336.5659.
###