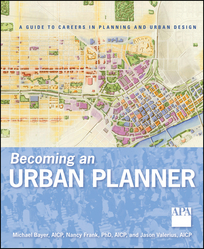 Hoboken, NJ (PRWEB) February 17, 2010
In an economy in which many industries are contracting and reducing workforce, the role of the urban planner remains in high demand, expected to increase 9 to 17 percent by 2014 according to the US Department of Labor. And although two-thirds of planners work for the government, the fastest growing segment of the planning job market is in the private sector (Bureau of Labor Statistics, 2009). Urban planning is a profession that offers a wide range of opportunities for people with many different talents and aspirations.
Yet, unlike the occupations of doctor, architect, lawyer, or engineer, the work of the urban planner is not as well known to people outside the profession. John Wiley & Sons, a leader in professional publishing, has published a guide to careers in urban planning and urban design, with advice and first-hand accounts from about 50 of today's planning professionals and academics. BECOMING AN URBAN PLANNER: A Guide to Careers in Planning and Urban Design (John Wiley & Sons; February 2010; $39.95), supported by the American Planning Association, is a must-have guide for anyone considering or beginning a career in urban planning. In BECOMING AN URBAN PLANNER, readers will learn about:
•Entering the field—how to search for and get your first position.
•The skills individuals need and how to hone them through education and on the job as a professional.
•Potential career paths and what people in these positions do.
•Using internships, job shadowing, and other opportunities to break into the field.
•Public and private sector work, consulting, community planning and other planning specialties.
•Emerging new areas in planning, including sustainability and hazard mitigation planning.
Co-authored by two practicing urban planners and the chair of urban planning at the University of Wisconsin-Milwaukee—all AICP certified planners—this book is supported by the American Planning Association as the go-to guide to understanding what urban planners do. The authors include an overview of the profession, education requirements, specialties related to planning, the job search, and the resources a professional planner needs.
Urban planners deal with a breadth of policy and land use issues that communities are concerned about and that shape our future. BECOMING AN URBAN PLANNER is an essential guide for anyone interested in urban planning as a career choice.
ABOUT THE AUTHORS:
Michael Bayer, AICP, is a planner with Environmental Resources Management in Annapolis, Maryland. Before becoming an urban planner, he was a newspaper reporter whose articles have appeared in the Chicago Tribune, the Milwaukee Journal Sentinel, the Fort Wayne Journal Gazette, the Rochester (MN) Post-Bulletin, as well as Planning magazine.
Nancy Frank, AICP, is an associate professor and the chair of the department of urban planning at the University of Wisconsin-Milwaukee School of Architecture and Urban Planning. Frank has been instrumental in the development of the School for Urban Planning and Architecture (SUPAR), a charter Milwaukee public high school that opened in fall 2007.
Jason J. Valerius, AICP, is a planner and urban designer for MSA Professional Services, Inc, in Madison, Wisconsin. Valerius served for four years as assistant editor of the Wisconsin Chapter of the American Planning Association quarterly newsletter (WAPANews).
BECOMING AN URBAN PLANNER
A Guide to Careers in Planning and Urban Design
Published by John Wiley & Sons, Inc.
Publication date: February 2010
$39.95; Hardcover; 336 pages; ISBN: 978-0-470-27863-5
###