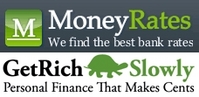 Anything that keeps the message about saving money in the public eye helps reinforce good habits and improve financial literacy.
Foster City, CA (PRWEB) February 17, 2010
Amidst the still-anemic labor and housing markets, the piggy banks of some Americans are growing healthily, according to an informal online poll conducted by leading financial education Web sites MoneyRates.com and GetRichSlowly.org. Of the 1,629 site visitors who participated in the poll, 30 percent reported saving more than a quarter of their income each month, while 34 percent save between 10 and 25 percent of their earnings--a significant contrast to the national savings rate of 4.6 percent of take-home personal income reported during the fourth quarter of 2009 by the U.S. Bureau of Economic Analysis.
"This saving pattern reflects the savings-focused audience of the two sites; people who visit MoneyRates.com or GetRichSlowly.org tend to be people who are actively working to get better at saving," Richard Barrington, spokesperson for MoneyRates.com said. "They are regularly looking for tips and reminders and the impact of this is reflected in the poll results."
Individuals seeking support for their savings programs can not only seek out tools and resources at MoneyRates.com and GetRichSlowly.org but also find inspiration in America Saves Week (February 21 - 28). America Saves Week is a nationwide campaign coordinated by the Consumer Federation of America and the American Savings Education Council, aimed at promoting personal savings and financial education.
"America Saves Week perfectly complements the savings tools and tips offered year-round by sites like MoneyRates.com and GetRichSlowly.org," Barrington said. "Anything that keeps the message about saving money in the public eye helps reinforce good habits and improve financial literacy."
The reality is that many Americans still need to hear the savings message. Even among the MoneyRates.com and GetRichSlowly.org poll respondents, 13 percent are not saving anything for a rainy day--including 4 percent who are adding to their debt each month. Among the population at large, AmericaSavesWeek.org reports that most Americans are not saving adequately for retirement, and many lower-income households do not have sufficient emergency savings for unexpected costs.
"Our current economic climate has shown that setting up an automatic savings account for emergency funds, retirement and other major life milestones has never been more important, " Nancy Register, National Director of America Saves said.
"Everyone can save, start small if you have to," J.D. Roth, editor of GetRichSlowly.org said. "Even saving $10 a month is better than saving nothing. People who make saving a priority--especially when they're young--enjoy much greater financial security than those who fail to plan ahead."
Barrington agreed that regular discipline was the key to successful saving. "Saving money is like getting in shape--it doesn't do much good to work out once or twice a year."
More in-depth analysis of the poll and its results are available in Barrington's article, Survey Says You're Doing a Good Job of Saving Money.
Visitors to both MoneyRates.com and GetRichSlowly.org can access educational articles and interest rate reports to help them with setting and achieving their financial goals.
MoneyRates.com has been a leading source of information on bank rates, personal finance, savings accounts and investing since 1999. The site provides the highest rates on certificates of deposits, money market accounts and high-yield savings accounts.
GetRichSlowly.org--recently named most inspiring money blog by Money magazine--is devoted to sensible personal finance. Since 2006, founder J.D. Roth has been sharing with thousands of daily readers what he has learned about debt elimination, saving money and practical investing.
Richard Barrington and J.D. Roth are available for interviews on this topic and other topics relating to personal saving and investing. To interview Richard or J.D., please contact:
Jessica Austin
479-452-0019
###