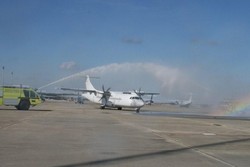 "The Indaer and AvCraft team exceeded my expectations. They are professional, productive, and very knowledgeable about the ATR. We see this in the quality of the work performed on our aircraft, which was completed on time and on budget."
Myrtle Beach, S.C. (PRWEB) February 17, 2010
Aerospace maintenance, engineering and technical services company Indaer International today announced that it and its joint venture partner AvCraft Support Services have completed their first ATR 42 heavy check for launch customer CAIRE Air Antilles Express. The aircraft was redelivered in a traditional ramp ceremony at AvCraft's Myrtle Beach facility. The ceremony featured an arch of water provided by Myrtle Beach International Airport firefighters.
"We're proud to be achieving this milestone," said Mr. Santiago Hoyos, Indaer's ATR Heavy Maintenance Project Manager. "Our success on this first ATR heavy check clearly demonstrates the technical expertise at AvCraft and Indaer; the strength of our supply chain; and the capability of our program management and reporting systems."
Mr. Eric Lambert, AvCraft's Director of Operations, echoed these comments. "Although this was our first ATR heavy check, it reflects the experience we've earned completing more than 50 checks on other regional jets and turboprops, and our partnership with Indaer worked flawlessly."
CAIRE and its subsidiary Air Antilles Express operate ATR aircraft on regional routes in the Caribbean from a base in Guadeloupe, French West Indies. After the ceremony in Myrtle Beach, this aircraft returned home on a flawless 5½-hour non-stop ferry flight.
"I'm very impressed by my experience here in Myrtle Beach," said Mr. Jean-Phillipe Coudrat, who is responsible for continuing airworthiness at CAIRE. "The Indaer and AvCraft team exceeded my expectations. They are professional, productive, and very knowledgeable about the ATR. We see this in the quality of the work performed on our aircraft, which was completed on time and on budget."
AvCraft Support Services is a key member of the South Carolina aerospace community. "AvCraft and Indaer are clearly demonstrating why Myrtle Beach is a great place for aerospace," said Mr. Jimmy Yahnis, Acting CEO, Myrtle Beach Economic Development Corporation. "We've got a great location, great facilities and great people. And we're proud to host AvCraft in our community."
About Indaer International and AvCraft Support Services
Indaer International is an aerospace, engineering and technical services company that was created as a successor to ACES, a South American regional airline with a long and successful history of Airbus, Boeing and ATR operations.
Today Indaer employs 45 full-time engineers, technicians and systems analysts who provide start-up and lease transition assistance; technical training; maintenance planning and oversight; in-service engineering; and field support for owners and lessors of Boeing, Airbus, Embraer, ATR and Bombardier aircraft.
Indaer also provides Airbus A320 and ATR 42 and 72 line maintenance, ATR intermediate maintenance and Twin Otter heavy maintenance at hangar facilities in Bogota and Medellin in Colombia, and, in partnership with AvCraft Support Services, ATR and Dornier 328 heavy maintenance at a facility in Myrtle Beach, South Carolina. The company has an engineering office in Medellin and sales offices in Canada and Switzerland.
Founded in 2004, AvCraft Support Services provides regional aircraft heavy maintenance and modifications in a 130,000 sq ft facility at Myrtle Beach International Airport. The facility includes hangars, back shops and a double bay paint shop adjacent to a 400,000 sq ft aircraft storage area.
In 2009, Indaer and AvCraft supported 28 customers from 11 countries in North and South America, Europe and Asia.
More information is available at http://www.indaer.com.
###