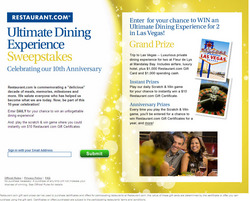 The launch of the Ultimate Dining Experience sweepstakes is our way to say 'Thank You' to our customers, restaurant and business partners and share our company's exciting 10 year anniversary with the public
Arlington Heights, Ill. (PRWEB) February 17, 2010
In honor of its 10 year anniversary, Restaurant.com is toasting everyone who has contributed to the company's success by launching the "Ultimate Dining Experience" sweepstakes. Starting today, individuals nationwide have the opportunity to enter online for a chance to win a weekend getaway to Las Vegas. The grand prize package includes an exclusive dining vacation experience, staying at the Mandalay Bay Resort and dining at Fleur de Lys, a participating Restaurant.com restaurant.
"The launch of the Ultimate Dining Experience sweepstakes is our way to say 'Thank You' to our customers, restaurant and business partners and share our company's exciting 10 year anniversary with the public," said Cary Chessick, president and CEO of Restaurant.com. "We hope diners everywhere will join us in a toast: to enjoyable and extraordinary dining at restaurants all across the country!"
The Restaurant.com Ultimate Dining Experience promotion begins Feb. 17, 2010 and continues until March 31, 2010. During that time, visitors can log on to http://www.Restaurant.com/Sweeps for sweepstakes entry and to play the instant-win game. Once registered, participants are automatically entered into the sweepstakes for the chance to win the grand prize: luxurious private dining for two at Fleur de Lys within Mandalay Bay Resort in Las Vegas, airfare, a two night stay at Mandalay Bay Resort, plus $1,000 worth of Restaurant.com Gift Certificates and an additional $1,000 spending cash.
Participants are also automatically entered to win one of 10 additional sweepstakes prizes. One year of free $25 Restaurant.com Gift Certificates and $25 gift certificates from Restaurant.com merchant partners are among the 10 available prizes. All Ultimate Dining Experience sweepstakes prizes, including the grand prize, will be drawn in early April.
In addition to entering the sweepstakes, participants can play a "scratch and win" game for an opportunity to instantly win a $10 Restaurant.com Gift Certificate. Within the game, participants virtually scratch off three images of food to see if there are "win" messages underneath. If three "wins" appear, players get a free $10 gift certificate instantly. As many as 20,000 winners will be selected during the promotion.
Ultimate Dining Experience sweepstakes entrants also have the opportunity to increase their overall chances to win through the sweepstakes and instant win game. By alerting up to five friends per day through the site's "refer a friend" option, participants earn five additional chances to win sweepstakes prizes, as well as five additional instant win game plays, per day.
Throughout 2010, Restaurant.com will pay tribute to devoted customers, restaurant partners, clients, staff and community members through a series of anniversary activities. The Ultimate Dining Experience sweepstakes marks the beginning of the celebration and of those initiatives. For more information and for official sweepstakes rules visit: http://www.Restaurant.com/Sweeps.
"Restaurants are the social centers of thousands of local communities. With each dining experience we are treated to the simple pleasure of good food, good friends and good times. We will continue connecting diners with restaurants and helping create fond, lasting memories. We look forward to the next 10 years and beyond," said Chessick.
About Restaurant.com
Restaurant.com is the trusted and valued source connecting restaurants and diners nationwide. The company offers savings at more than 14,000 restaurants nationwide with more than 25,000 gift certificate options--available 24/7. Restaurant.com brings people together to relax, converse and enjoy well-prepared and -served meals at affordable prices. To date, Restaurant.com customers have saved more than $100 million through the gift certificate program. Restaurant.com has operated since 1999 and is based in Arlington Heights, Ill.
###