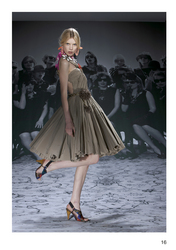 The beautiful Ileana Garcia from Miami's Alfombra Roja Radio Show will be the evenings' Mistress of Ceremonies and special guest DJ Gringo from Miami will be playing great music to keep everyone dancing all night long! International attendees will mix, mingle and participate in Tiffany & Co.'s
Miami, FL (Vocus) February 18, 2010
Mission International Rescue – "Magical Splendor for Life" event. A night of high fashion, design and sheer entertainment to benefit Mission International Rescue charities.
La Romana, Dominican Republic
Saturday, March 13, 2010
8.30 p.m.
The fusion of the thriving social scene of Casa de Campo and philanthropy will unite for a tropical night of chic fashion and action packed entertainment for MIR charities, Saturday, March 13th at the 19th Annual Magical Splendor for Life." The beautiful Ileana Garcia from Miami's Alfombra Roja Radio Show will be the evenings' Mistress of Ceremonies and special guest DJ Gringo from Miami will be playing great music to keep everyone dancing all night long! International attendees will mix, mingle and participate in Tiffany & Co.'s "The Mystery Blue Box Wall", enjoy the captivating floral sculptures of Emilio Robba's and bethe first to preview the 2010 Spring collection of Lanvin during an exclusive fashion show.
Enchanted attendees will stroll through the cobblestoned streets of Altos de Chavon, sipping cocktails of Ron Atlantico and Bacardi. Following the fashion show of Lanvin, Santo Domingo's hottest Night Club, Praia, will host the After Party immediately following the dinner gala. Other event sponsors include: Casa de Campo, Central Romana, Costa Nursery, Color Vision, Proseguros, Tropigas, American Airlines, Casa Life, Hiper Marcas S.A., Coca-Cola, Grupo Intermedia and Lisitin Diario. Event proceeds will benefit MIR Charities, a 501(c)3 charity that supports Fundacion MIR, created to aid and protect women, children and families who have been abused, neglected and/or infected by HIV in La Romana, Dominican Republic.
Entrance tickets: VIP tables from $1,000, $500 and $300.
After Party: $50 per person
For more information and reservations:
Ana Alba of MIR Charities: (561) 366-5095 or visit http://www.mircharities.org
Magdalena Cavazos of Fundacion MIR: (809) 523-8270 or magdalena(at)fundacionmir(dot)org
Altos de Chavon
Casa de Campo Resort
La Romana, DR
###