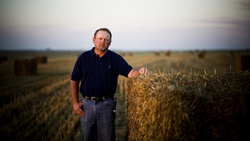 We are grateful for the chance to present this technology to the farmers at this venue - where so many farmers can benefit from this information
Houston, TX (PRWEB) February 18, 2010
StollerUSA is heading to the Golden State for the 15th annual Commodity Classic to be held March 4-6 in Anaheim, California.
An educational event put on by the American Soybean Association and National Corn Growers Association, Commodity Classic offers farmers from across the country information on new products and new farming strategies.
StollerUSA, the leader in helping farmers maximize the genetic potential of their crops and getting the most out of their micronutrients, will be at booth 1226. There visitors will find new product and application information, get a chance to win an iPod, and have conversations with real farmers who have experienced real results using Stoller's innovative technologies.
StollerUSA has been selected to present in the mini "What Is New" (WIN) presentation product forum - an educational session showcasing new innovations and services critical to agriculture's future. Jeff Morgan, StollerUSA Marketing Director, will introduce the new seed application of their flagship product: Bio-Forge®.
"Bio-Forge is a powerful tool which helps growers get the most from their expensive seed investment by maintaining an optimal and healthy hormone balance in plants," explains Jerry Stoller, CEO of StollerUSA. "What farmers have discovered is the sooner they can expose the plant/seed to Bio-Forge, the greater positive impact it will have on their yields - which translates into more bushels/acre at the end of the season. We are grateful for the chance to present this technology to the farmers at this venue - where so many farmers can benefit from this information."
Bio-Forge is a proven yield enhancer that has been used for years as a foliar or in furrow treatment. In 2009, with the increasing emphasis on efficiencies and return-on-investment, farmers experimented with Bio-Forge as a seed treatment and the product earned new respect. Just 4 oz. per cwt of seed and farmers report yield increases from 10% to 25%. In addition to grower field trials, several independent university studies confirmed what farmers experienced.
StollerUSA is dedicated to helping producers enhance their crops by maximizing genetic expression. The result is in enhanced marketable yield, resistance to insects, nematodes and disease, while maximizing return-on-investment. Stoller products are proven to ensure optimum plant growth by maintaining appropriate hormone balance in combination with supporting nutrients, resulting in healthier, more productive crops that are better able to withstand stress and achieve their full genetic potential.
In agribusiness for more than 40 years, StollerUSA markets a full line of products to help farmers increase crop yield and quality. StollerUSA, headquartered in Houston, is actively researching and developing plant performance products in more than 50 countries. For more information on StollerUSA, visit http://www.StollerUSA.com.
###