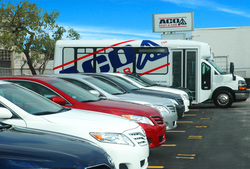 ACO RENT A CAR is the new best car rental option at the Miami International Airport
Miami, FL (PRWEB) February 17, 2010
For visitors looking for car rental in Miami, ACO car rental at the Miami airport announced today immediate availability to rent a car in Miami with exclusive benefits compared to its competitors. ACO Rent A Car is the only car rental at the Miami airport that makes it clear up front that customers won't delay their travels any further by having to wait in long lines to rent their car at the airport. Although reservations are not required, with Miami airport car rental company ACO, all clients, whether national or international, can also reserve a car ahead of time by visiting http://www.ACORentACar.com or by taking advantage of the free ACO telephone kiosks inside the airport before boarding a free shuttle to the rental car garage.
ACO Rent A Car also announced that visitors deciding on a rental car in Miami will find their company's fleet of brand-new 2010 cars to be a step above the competition, and satisfaction is guaranteed. "Our philosophy is that every customer who rents a car with ACO must leave eager to rent a car again with us," stated Lucio Covone, Executive President of ACO car rental in Miami, FL. "When you rent a car with us, you know exactly how much you will pay. You will not have surprises or any fine print. You will enjoy your car rental experience to the fullest. We guarantee it." Finding a car to rent at the Miami airport has been improved particularly because ACO's clients are able to avoid the long lines more commonly encountered with larger, more impersonal chains. The fast, comfortable service provides significant savings after extensive travel times.
With more than 30 years of experience in the market, ACO is able to stand by its claim to excellent customer service by offering the best prices to rent a car at the Miami airport (MIA). Open for car rental in the Miami airport since December of 2009, the forward-thinking Miami auto rental agency understands that successful travels for business and pleasure largely depend on successful transportation. For this reason, ACO offers only the best-quality and most reliable vehicles on the market today, in excellent condition inside and outside, with a fleet that is constantly renewed.
ACO Rent A Car also ensures its Miami car rental clients the best service in car rental by maintaining a superior car rental corporate plan for companies in need of safe and smooth business travels. For more information on ACO, please contact:
Ana Godoy
General Manager
Aco North America, Inc.
305-526-0440
# # #