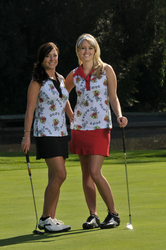 "This line of clothing is unique and different. Many of my customers wear it on a daily basis as active wear and not just to golf," Blake said. "I'm a designer. I want to give women a choice to be fashionable and functional on and off the course."
Denver, CO (PRWEB) February 18, 2010
Popular Internet-based women's golf clothing line, tracey lynn, adds new skorts and shirts that are red-hot red, laced in lace and tattoo prints.
"I study the trends in the world of fashion, not just golf," said Tracey Blake, CEO and designer of tracey lynn, LLC. "The trends from designers worldwide, the TexWorld show in New York and the coveted Nieman Marcus catalogs all point to loads of bright colors for spring 2010, including red."
Appropriately named Twist'd Sister, the new red collection features skorts in red and black with tattoo print shorts, sleeveless shirts in all tattoo print with red collars and red shirts with lace.
"This line of clothing is unique and different. Many of my customers wear it on a daily basis as active wear and not just to golf," Blake said. "I'm a designer. I want to give women a choice to be fashionable and functional on and off the course."
The golf apparel line is known for its technical and athletic fabrics, as well as the accents of popular prints not seen in other lines such as leopard and tattoo. The apparel is travel-friendly and easy to care for by just washing and hanging to dry. In addition to well-made clothing, all of tracey lynn's golf apparel is manufactured and produced in the U.S.A.
Tracey Lynn has served thousands of customers throughout the United States, Europe, Asia and Canada since 2007. The women's golf clothing line is available online at http://www.traceylynngolf.com and also in fine pro shops, country clubs and boutiques across the U.S.
###