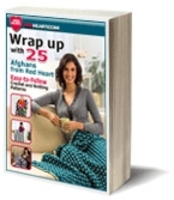 Northbrook, IL (PRWEB) February 17, 2010
Crochet and knitting continue to be two of the most popular categories in crafting. Homemade afghans are a favorite project for yarn enthusiasts, combining a functional necessity for any home with a customizable decoration. Red Heart Yarn presents a free eBook, Wrap up with 25 Afghans, with the best in crochet and knitting afghan patterns. Crafters can download and print this FREE eBook, published by FaveCrafts.com at the website.
Online eBooks are revolutionizing people's ability to access information. Recently, the British Library announced it would offer 65,000 works of 19th century fiction for free as eBooks. Crafters can enjoy the eBook craze with free collections of craft projects, tutorials and tips, which can be saved to the computer and enjoyed offline. The Red Heart Yarn Afghans eBook is a complete resource in a favorite crafting theme, with 25 unique patterns for different styles and skill levels.
Red Heart Yarn's eBook can be printed to bring to craft groups or shared by email with an online crafting club. Both online and in person, crochet and knitting are popular social activities for all ages. Crafters can work together in a group project to create the motifs for a crochet afghan, such as the Nature Inspired Throw (page 18) featuring beautiful crochet squares. Crafters can then donate the assembled afghan to a local charity or continue to make afghans in this manner for each member of the group.
Now is a great time to start with the crochet afghan patterns and knit afghan patterns in the Red Heart Yarn eBook. Great afghan patterns in the eBook include the Blush Rose Afghan (pg. 19), the Snuggle Afghan with Sleeves (pg. 31) and the Bright Circle Knit Throw (pg. 46). With beginner patterns as well as more experienced patterns, any skill level will enjoy crafting with this eBook.
Go to http://www.favecrafts.com/Crochet-Afghans/Afghan-Patterns-eBook-from-Red-Heart-Yarn to download the free Wrap Up With 25 Afghans eBook from Red Heart Yarn and FaveCrafts.com.
About FaveCrafts.com:
Favecrafts.com is an exciting resource for all things craft — from expert tips to project ideas for every style and skill level. Prime Publishing LLC was established in 1995 as a traditional niche book publishing company. The company created their first web site in 1996. By 1998, the company had over 500,000 opt-in e-mail subscribers to various women focused niche content newsletters and web sites. Today, we are an Internet Media Company that operates web site communities and e-mail newsletters in niche areas such as crafting, home décor, wellness, diet and cooking.
About Coats & Clark/Redheart.com:
Coats & Clark is one of the most recognized names in yarn, sewing and needlecraft products in America. First marketed in 1936, the Red Heart® brand today continues to exude its founding principles; quality, value and inspiration for the knitting and crochet enthusiast.
###