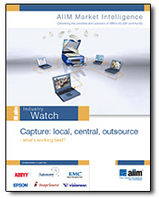 Document Scanning and Capture: local, central, outsource - what's working best?
Silver Spring, MD (Vocus) February 18, 2010
AIIM's recent survey found that 62% of important paper documents are still archived as paper. Even when documents are sent off for archive scanning, 25% are photocopied beforehand "just in case". Less than a third of the paper originals are systematically destroyed after scanning. AIIM's President, John Mancini comments, "We are at last in a situation where electronic archiving of records is efficient, effective and can save huge amounts of space, and yet most office staff seem to be hanging on to paper in the mistaken view that there is some legal reason to do so."
"Despite the fact that the legal admissibility of scanned paper documents has been established for nearly 20 years, and is nailed down in legislation and standards around the world, there is still this suspicion among users that they may need to produce the original paper copy at some stage," continued Mancini. "The fact that searching for - and finding - a paper copy is umpteen times more difficult than finding an electronic one seems to have escaped them." In the survey, 70% of the respondents agreed with the statement, "Users feel that paper records are needed for legal reasons." Even at the organizational level, in 25% of businesses the legal admissibility of scanned documents is still seen as an issue.
"In many organizations," says Mancini, "there is a potential win-win situation, but only half of the benefit is being leveraged. Improved searchability of business documents is the biggest user driver for investments in scanning and capture, and yet a more visible benefit -- reduced storage costs for records -- is unrealized because of this obsession with holding on to the paper."
Based on over 850 responses, the AIIM research report is entitled "Document Scanning and Capture: local, central, outsource - what's working best?" Part of the AIIM Industry Watch series, the full report is free to download from the AIIM website at http://www.aiim.org/research/document-scanning-and-capture.aspx.
About the research
The survey was taken by 882 individual members of the AIIM community between October 8th and October 23rd, 2009, using a Web-based tool. Invitations to take the survey were sent via e-mail to a selection of the AIIM worldwide community members.
About AIIM
AIIM (http://www.aiim.org) is the community that provides education, research, and best practices to help organizations find, control, and optimize their information. For over 60 years, AIIM has been the leading non-profit organization focused on helping users to understand the challenges associated with managing documents, content, records and business processes. The AIIM community includes over 65,000 ECM users and professionals.
Subscribe to AIIM RSS feeds at http://www.aiim.org/feeds
Subscribe to industry press release feeds at http://www.aiim.org/ResourceCenter/RSSFeed.aspx?Type=PRESSRELEASES
Beth Mayhew
Director, Marketing
301.755.2681
Doug Miles
Director, Market Intelligence
+44.1905.727600
###