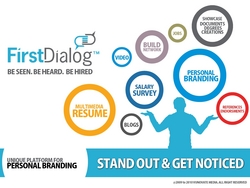 "This is our aggressive attempt at empowering a professional to stand out of the crowd and get noticed" Nasr khan, Founder "Creating a brand out of oneself is a big challenge and FirstDialog is an answer to such challenges" Amit Koshal, Co-Founder
New Delhi, India (PRWEB) February 17, 2010
Vunovate Media today announced the launch of FirstDialog, world's first online personal branding and social recruitment platform for professionals. With FirstDialog, professionals and jobseekers can create an interactive, web based, multimedia rich resume with quantifiable and trusted information. FirstDialog will help jobseekers elevate their resume to a whole new level with the use of interactive multimedia, secure document showcase, verified credentials, smart follow-up, skill assessment and certification, professional networking, social sharing and more. Currently available in Private Alpha, FirstDialog offers all these innovative features for free.
FirstDialog, has been developed to address the key problems faced by professionals during career advancement and while seeking a new job opportunity. In today's highly competitive and stiffening job market, professionals need to stand out from the crowd and this process starts with a resume. Traditional resumes have several limitations: they become stale and out of date, lack detailed qualifying and quantifiable information, cannot be tracked for delivery, cannot showcase documents, credentials, work samples or achievements, provide little or no control over its access, or get buried in the recipient's spam filter. Moreover, traditional resumes provide very little help in creating a memorable first impression for the job candidate.
FirstDialog addresses these problems by offering effective tools for building and maintaining a strong and memorable online personal brand and helping them stand out of the crowd. By adding the power of multimedia and professional networking, FirstDialog makes resumes much more powerful, expressive, influential and secure. FirstDialog also offers social recruitment features through which job seekers can explore unadvertised jobs and directly apply to them.
FirstDialog offers a way to showcase rich, trusted and quantifiable information which is beneficial for both jobseekers and recruiters.
FirstDialog is a Web 2.0 online personal branding platform that helps professionals and jobseekers create a memorable personal brand and get noticed. The platform focuses on four key areas:

Rich, flexible multimedia presentation including rich CSS based profiles, video resume, vanity URL, SEO optimized resume and secure document showcase.
Quantifiable and trusted information through identity and credential verification, online skill tests, and endorsements by peers, colleagues and managers.
Social recruitment features that allow the user to share industry news, job leads, references, resume and other useful information with those in their network and even with their friends on other social networks.
Security and privacy so users have complete control over the sharing, forward, locking, restricting their resume. FirstDialog uses bank-grade security mechanism to protect user information.
Following are some of the useful features offered by FirstDialog, never seen before in a resume platform:

Powerful, multimedia presentations through secure video hosting and streaming
Intuitive, online video editor that allows users to create a professional-quality video or multimedia presentation of their achievements
Extensive set of rich, web based and SEO optimized resume templates
Document showcase with secure document upload and sharing
Credential verification of professional and educational information through a global verification partner
Extensive security and privacy mechanisms, giving users total privacy control including 256 bit SSL and 128 bit passkey level access control
Easy to remember unique short URL
Professional networking and a rich set to features allowing you to share of job news, industry news, one click job referrals, and more
Multiple resume creation with highly customizable views for each resume
Deep analytics to track resume delivery, views, and other statistics
Smart follow-up mechanism to maintain constant communication with prospective employers
Job aggregation through multiple job boards
FirstDialog offers professional networking and social recruitment features to explore unadvertised jobs.
As a growing number of vacancies are being filled through networking and personal referrals, FirstDialog offers networking features specially designed around social recruitment. With FirstDialog, users can create a private network of friends, colleagues and peers and share job leads and industry news with them. Using FirstDialog, users can also communicate with their contacts on other social networks like LinkedIn and Facebook.
FirstDialog is initially launched as an invite only private alpha. During this period, selected number of users will be able to use the full functionality of FirstDialog platform without any charges.
About FirstDialog
FirstDialog is a Web 2.0 online personal branding and social recruitment platform that helps professionals and jobseekers create a memorable personal brand. FirstDialog is developed by Vunovate Media Private Limited, a Web 2.0 startup headquartered in New Delhi, India. The company started in July 2009, with the development of FirstDialog as its flagship brand.
The company is self funded and awarded with startup grant from MSME (Ministry of Micro, Small and Medium Enterprises).
The Team
The company is founded by two young entrepreneurs who are passionate about helping professionals and job seekers utilize the web to advance their careers.
Nasr Khan is a product manager with 10 years of experience. He has incubated many products from start to completion during his association with startup companies like ACL Wireless and ValueFirst Messaging. During his last stint with Nokia, he served as head project management for APAC in Nokia Software and Services.
Amit Koshal is a seasoned business strategy and development professional and has worked in multiple senior management positions at startups and multinationals including ACL Wireless, MySpace India (News Corp, USA) as India Business Head for Mobile business and UTV. His last stint with UTV saw him spearheading the new media products as Associate Vice President.
###