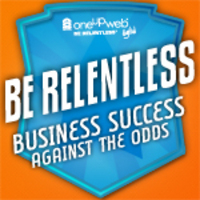 Be Relentless: Business Success Against the Odds.
Traverse City, MI (PRWEB) February 18, 2010
Success is a journey. And those who've embarked on this voyage know all too well that the path to victory is surely not free of thorny, demanding challenges. But those who have reached their destination have one thing in common--relentless moral fiber. And Oneupweb's new monthly podcast series, "Be Relentless: Business Success Against the Odds" documents the ups and downs, do's and don'ts and mesmeric lives of Michigan's most exemplary business leaders and professionals who have relentlessly pursued and found success against the odds.
"Be Relentless" is Oneupweb's tagline, lifestyle and now, part of the title of their newest podcast series. Each month, Oneupweb will feature a different relentless Michigander in a new episode of "Be Relentless: Business Success Against the Odds."
"The podcast series shines a light on the success stories grown right here in Michigan," explains Oneupweb Founder and CEO Lisa Wehr. "It serves as a way to recognize these particular people for their leadership, perseverance and above all, their relentless pursuit of excellence."
February's episode features Dr. Jerry Linenger, an American astronaut who (among numerous accomplishments) survived the most severe fire ever onboard a spacecraft while aboard the Russian Space Station Mir, was the first American to conduct a spacewalk from a foreign space station while in a non-American engineered space suit and was named one of People Magazine's Sexiest Explorers. His story is riveting, to say the least.
"We're hopeful that this series will really get Michiganders fired up in a good way," says Wehr. "The goal is to provide people with uplifting chronicles of those who've succeeded despite the odds--and to show them that it can be done. Because let's face it, Michigan could use a little encouragement right about now."
You can listen and subscribe to the podcast series here. And be sure to stay tuned for next month's episode featuring New York Times Best Selling Author, Mr. Doug Stanton. For more information on Oneupweb, please visit OneUpWeb.com.
About Oneupweb
Oneupweb has been an innovator in digital marketing for more than a decade, creating integrated online marketing plans that incorporate natural search engine optimization (SEO), paid search marketing (PPC), social media marketing, digital pr, display advertising, analytics, creative services, mobile marketing, website design, web 2.0 technology, audio/video/podcasting, and research, training and consultation. Heralded by an independent research firm for their leadership team, Midwestern work ethic and solid experience in optimizing complicated sites, Oneupweb has been named a Top 20 Search Marketing Agency by Advertising Age for three consecutive years, and CEO Lisa Wehr is recognized as an Ernst & Young Entrepreneur of the Year. The company publishes an award-winning blog entitled StraightUpSearch, and an award-winning monthly newsletter entitled OneUp Low-Down. Oneupweb is a privately held company located in Traverse City, Michigan. For more information on Oneupweb, please call 231.922.9977, visit OneUpWeb.com or follow them on Twitter @Oneupweb and @LisaWehr.
# # #