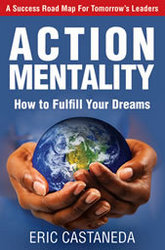 "I decided not to be a victim and chose to be a thriving survivor who would speak up and teach others how to overcome any obstacles and achieve their dreams."
Los Angeles, CA (PRWEB) February 18, 2010
After surviving gang violence and getting shot five times, motivational speaker Eric Castaneda has published a practical book to teach others how to overcome obstacles and achieve their dreams.
Entitled Action Mentality: How to Fulfill Your Dreams, the book takes a step-by-step, straightforward approach to helping people get positive results in any situation. It's not the standard all-you-have-to-do-is-think-positive type of self-help/leadership book, according to Castaneda. The encouraging book provides a system to help readers take action, overcome obstacles and move forward with accomplishing their goals. "My step-by-step system will help people change their life dramatically, whether they want to make more money or improve personal relationships," Castaneda said.
Action Mentality uses real-life stories and proven strategies to motivate readers to progress. The 110-page book shares self-empowering tactics that teach people how to enhance their self-image, how to eliminate fear and doubt, and how to avoid negative influences. The book is already generating positive comments. For example, Patrick Snow, the international best-selling author of Creating Your Own Destiny said, Action Mentality is one of those rare books you will want to read again and again. I have so much faith in this book that I can't think of a single person who would not benefit from reading it." Similarly, Donald M. Burrows, the author of Plan While You Still Can said, "If you want to become one IN a million, not one OF a million, skip the pity party; read Eric's book and get on with it."
Castaneda, who grew up in South Los Angeles, is highly familiar with the concepts of taking action and triumphing over obstacles. After becoming a victim of gang violence, he was shot five times and had to undergo an intensive surgery and rehabilitation. However, he opted to rise above his challenging circumstances to become a successful entrepreneur. "I decided not to be a victim and chose to be a thriving survivor who would speak up and teach others how to overcome any obstacles and achieve their dreams," he said.
Castaneda's new book is a testament to his courage, determination and ingenuity. It also provides a beacon of hope for anyone who is struggling to overcome obstacles to realize their goals. Action Mentality is available at http://www.ericcastaneda.com and http://www.amazon.com. For more information about the book, contact Eric Castaneda directly at (877) 817-2875.
About the Author
Known as "America's Most Entertaining Leadership Coach™", Eric Castaneda is an accomplished author, speaker, coach and comedian. Through Castaneda International, LLC, he teaches clients how to use practical strategies—not just positive thinking—to become leaders, overcome obstacles and take control of their lives. His products and services are designed to help people change their bad habits, so they can attain positive, long-lasting results. Castaneda International, LLC is based in Los Angeles and works with clients throughout the nation.
Contact:
Eric Castaneda, Author, Speaker, Coach, Comedian
(877) 817-2875
eric(at)ericcastaneda(dot)com
http://www.ericcastaneda.com
# # #