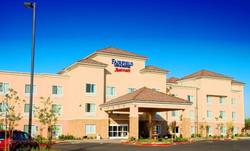 Clovis, CA (PRWEB) February 19, 2010
The new Fairfield Inn & Suites in Clovis is proud to announce their sponsorship of the Clovis Motorsports Jamboree 2010. The Clovis Motorsports Jamboree takes place May 7th and 8th, 2010 and will honor Legends Bill Vukovich & Ray Elder.
The festivities will begin on Friday May 7th with a Friday Night Cruise: From 6 PM- 9PM the public is encouraged to come out and watch the parade of over 300 cars. Saturday May 8th from 9 AM to 4 PM there will be a car show at Bicentennial Park, located on Sunnyside and Sierra Avenue in Clovis, Ca. You can view over 300 cars while enjoying food and many car related vendor booths.
The hotel near Kings Canyon National Park, is proud to be a part of this year's Motorsports Jamboree. As a host hotel for this event being held in the Fresno/Clovis area, the hotel is excited to assist the Clovis Motorsports Jamboree in any way possible. Felicity Garland, Operations Manager of the Clovis hotel, says, "We are proud to offer our support to the Clovis Motorsports Jamboree and are very excited to see all of the cars and people that this event will bring to the local area."
Along with the hotel near Fresno Airport, other sponsors for the event include Kitahara Pontiac Buick and GMC, Table Mountain Casino and radio stations Big Country 102.7, Alice 96.7, B 95, FOX Sports and La Preciosa 92.9.
Fairfield Inn and Suites Clovis, Ca. is currently accepting reservations for the event. Rates begin at $99.00 for a standard king bed, $109.00 for double queen bedded room and $119.00 for a king suite. These rates will be available until April 1st, 2010. It is highly recommended that you book early for this event.
Since it opened in January of 2009, the hotel and conference center near Fresno has welcomed visitors with a complimentary hot breakfast and ensured that its modern, comfortable rooms featuring the luxurious "Green Tea Bedding Package" are prepared to be a pleasant and relaxing home away from home. The hotel is 2- 4 miles from all sporting events in Clovis and is located in the safest area of the county. Fairfield Inn & Suites continues to provide, and raise, the standards of excellence for which Marriott properties are known and has become a standout among hotels near the Fresno Airport. For more information on the Clovis Motorsports Jamboree please visit:
http://www.clovischamber.com/events/CMJ.aspx#EventSponsors
# # #